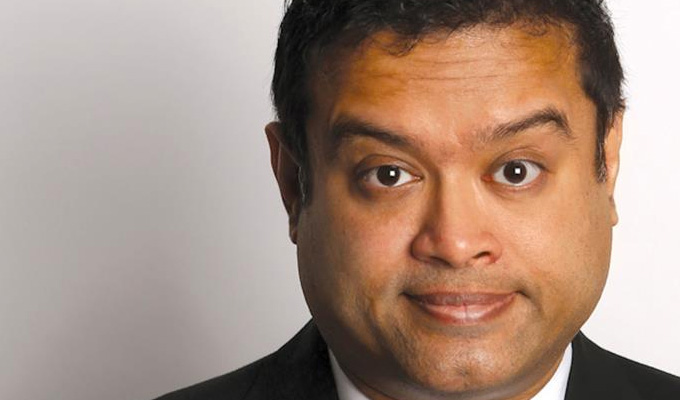 Paul Sinha: Shout Out to My Ex
Note: This review is from 2017
When Paul Sinha was last at the Fringe, he couldn't have been happier. He was in a great relationship and had two great jobs – comedian and ITV Chaser. But no sooner had the festival finished and he found himself dumped. That was the first blow in what was to become a bad week, in what was to become an even worse year.
This is, on the face of it, a fairly straightforward run through a series of unfortunate events – from social media rows, clumsy come-ons, ill-advised drunken nights out, bad gigs, the tabloids finally realising he was gay and humiliation at the hands of a fellow comedian on The Chase. Add in Brexit, 2016's celebrity deaths and the occasional flashback to previous failed relationships, and there's a catalogue of misery for your delectation
Sinha is a curious but winning combination of self-deprecation and slight arrogance – but because the stories hardly show him in a glowing light, they deflate any know-it-all hubris. Though he speaks with certainty, it's clear from the experiences he relays that while he may have the answers to general knowledge questions, he doesn't have the answers to life.
The anecdotes are skilfully told, not with any obvious dramatic flourishes in performance or writing. But in describing instances in a straightforward and efficient manner, Sinha draws the humour out, with an arch tagline or two just to emphasise his ignominy, plus the odd jibe at a public figure or fellow comedian. The fact that he's a minor celebrity himself now only exaggerates any embarrassment, which we feel acutely.
After we've laughed at his misfortune, Sinha offers a happier ending. He might not have his old relationship or his friendship with Lee Hurst – ruined by an accidental tweet – but he has still got his quizzing, and good people in his life. And a thoroughly entertaining Edinburgh show to boot.
Review date: 16 Aug 2017
Reviewed by: Steve Bennett
Recent Reviews
What do you think?