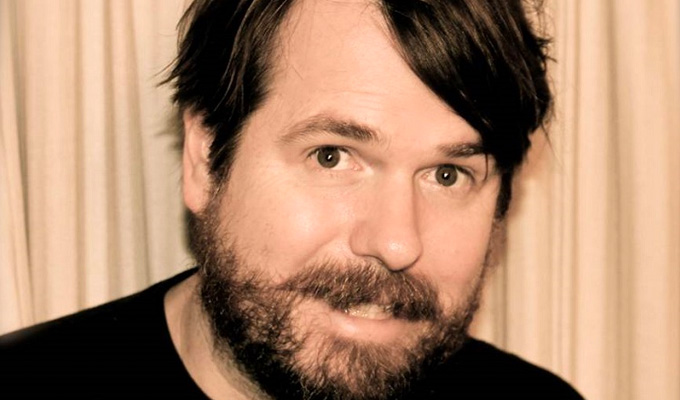 Pete Johansson: Pete Jo-Handsome Comes Alive
Canadian stand-up Pete Johansson is trying something a little different this year, seemingly choosing which of his routines he's going to do there and then on stage, selected off an iPad. That makes it tricky to review, but I can say that Johansson appears to be on good form.
The odd thing was that he fell out with the audience on the day I attended. Johansson was determined to do his preferred darker material about his dead dad, abortion and his polyamorous marriage.
But frustrated by the lack of big laughs, he became convinced that people weren't enjoying themselves. I don't think that was the case – there are a few possible explanations for why the gig didn't take off, but on the ground, people were into it. I don't think the venue helped – the Hive's main room isn't exactly intimate, and it's perhaps not easy in there for an audience to feel that all-important 'permission to laugh', so people don't always externalise their enjoyment.
Anyway, he eventually decided that we were a bunch of prudes and killed the show off after 50 minutes. Most people seemed genuinely disappointed.
So a slightly strange experience all round. There was certainly plenty of good stuff in Johansson's set, particularly his impassioned defence of abortion. I personally found it educational, too – I had no idea that there were companies out there who make fake foetuses in jars to send to anti-abortion protesters (of which Johansson's dad was one). His relationship to his late father comes under the microscope, and he has a nice riff on the phenomenon of people dying of a broken heart. You can trust Johansson to find a dark angle on a nice thing.
Then came the filth. When Johansson does filth he does it with intelligence and rare openness. I can't think of many other comics who would tell us in quite so much detail about their and their partner's sexual preferences.
I don't think people in the audience were shocked, particularly. Surprised, perhaps but not shocked. His material is really strong on this subject. He looks into the racial politics of buying a dildo, and laments the fragile business model of sex shops, urging us to support our local one.
The original takes keep coming, like his historical timeline of the female ejaculation, and his mathematical objection to his wife's request for a nine-inch-long dildo. It's as if he's been sent to show other comics how not to be hack.
It's a shame then the gig ended so abruptly and with a little ill-feeling in the air. I honestly think Johansson misread the situation in nixing the last ten minutes.
Review date: 15 Aug 2017
Reviewed by: Paul Fleckney
Recent Reviews
What do you think?