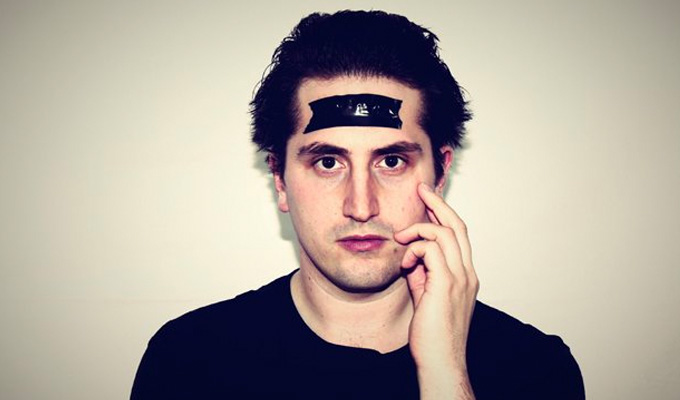 Luke McQueen: The Boy With Tape On His Face
Note: This review is from 2017
Comedy's most mischievous imp returns to the Fringe with a show that openly laments his lack of success. Luke McQueen has watched his mate Joel Dommett get his big break, accrue 100,000 followers and milk that success for all its worth, but McQueen has been left behind, not bad enough to quit, not good enough to make any money.
A 3.5-star review probably isn't much help, then, but The Boy With Tape On His Face is a show that has some exquisite ideas, but is just too patchy to be a 4. For every clever angle, there's an over-indulgence. His piss-take of comics who make lazy jokes about where their parents come from is hammered into the ground, presumably in search of some Stewart Lee-ish second and third winds, but it's never gonna happen. It's a joke for comedians and hardly anyone else, and yet it takes up quite a lot of time. Joel Dommett would never do that.
McQueen is capable of genuine comic originality though, and TBWTOHF has plenty of that. I loved his idea for developing a load of his own sex tapes, in response to Dommett's, which made it into the tabloids. Another brilliant part was about the phrase 'never meet your heroes', looking at it from the celebrity's point of view.
There's also a lovely throwaway gag that riffs on Romesh Ranganathan's TV show, and, of course, that show title is an audacious land grab to see if he can nick some fans from Tape Face (as he's now known) – a classic McQueen move.
It's is a well-constructed show, too, with McQueen placing the very moment of this show on a knife-edge. His mum is beginning to withdraw her support for his financially crippling creative outlet (the show intro is a Skype conversation with her that's cut off in a brutal, funny way), and an imminent meeting with the BBC about a TV show will be make-or-break for his career. This gives this hour a genuine sense of jeopardy, however true that all is, and adds to the sense of him being a comic on the brink.
As with McQueen's previous shows, he's an odd comic to watch onstage. He's still in the habit of aping the vocal ticks of Ricky Gervais and going a bit Rik Mayall, which suggests he's still a work in progress as a comic. He's a menacing presence onstage, and not exactly warm, but this suits his schtick as the unhinged nearly man. It makes you think he might actually end a show of his one day by going postal.
As it is, his final stunt requires him to become a kind of Siamese twin with an audience member, who has to take the mic. It goes on for a while, and it's not really worth the effort, killing the momentum he'd built up in the previous few sections. It's the sort of self-sabotaging ending to a show that makes you wonder whether McQueen is serious about making it, or whether he prefers life on the fringes.
As a spectacle, it's undoubtedly a show worth seeing despite its flaws – a late-night treat for anyone who has room in their world for some unpredictable, disruptive comedy.
Review date: 14 Aug 2017
Reviewed by:
Recent Reviews
What do you think?