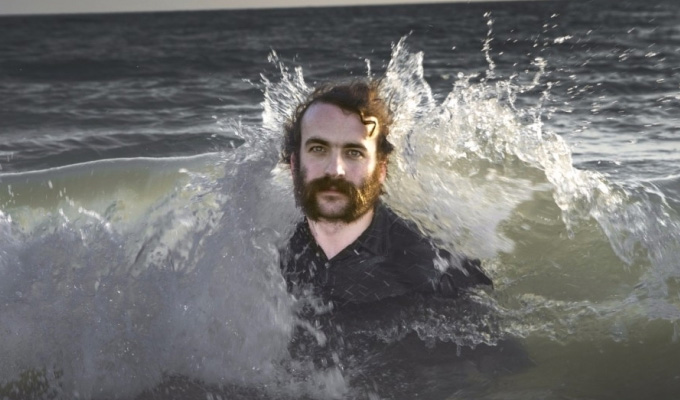 Douglas Walker: Zuschauer
There's a lot of invention in Douglas Walker's sophomore show, not least in a quintessentially 'Fringe' stunt which he's devised – odd, creative and generous, yet one we'll never see the conclusion of. And to say any more would be to spoil it.
The fact we can take part in this exercise without seeing how it plays out taps into his stated theme for Zuschauer. The German word means spectator, and Walker, a member of the Racing Minds group behind Aaaand Now For Something Completely Improvised, says he's trying to explore how audiences affect the show by their very act of watching and participation; by what they bring to the table.
His first character makes explicit the relationship between performer and observer. He's a conspiracy theorist and agitator, a political outlier spoiling for a fight and in denial of anything the hated mainstream media might report as fact. His twisted idealism and utter naivity make him something of a modern-day Citizen Smith, but prone to suggesting some outlandish demands, especially involving the older generation.
It's a funny rant, enhanced by Walker slipping out of character to make sure we understand the irony of what his alter-ego is calling for. If so, it's all in jest and we're all having fun. Take him literally, however, and he'd be a monster 'no better than Al Murray'. It's a clear comment on a climate where comedians are pilloried for jokes taken out of context.
Walker's slightly pretentious premise is largely, and advisedly, underplayed – although it comes to the surface later, when he angrily and destructively expresses his disappointment at our passive consumption of his art. All of us, that is, save for an audience volunteer pulled up to take part in a couple of sketches as Walker's foil.
Across those skits, he gets to display a talent for creating credible characters, from an under-appreciated nurse to a wartime leader and, splendidly, a Radio 6 Music presenter with a very obscure taste in music.
A recurring sketch has an office drone baffled by peculiar occurrences, which builds the tension with the skill of the League Of Gentlemen… the conclusion of which is anticlimactic, but also interesting in a different way.
Sometimes Walker's cleverness takes priority over the funny, but it does offer an extra aspect to what's already an above-average sketch offering. You'll certainly leave intrigued at the ideas in this show, and as to where his artistic ambition will eventually take him.
Review date: 10 Aug 2017
Reviewed by: Steve Bennett
Recent Reviews
What do you think?