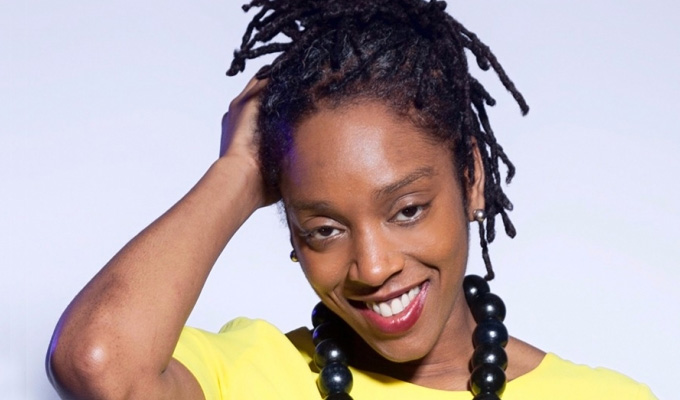 Athena Kugblenu: KMT
It's rather telling that expressions like 'fresh new perspective' will swirl around Athena Kugblenu, as a tacit admission that the supposedly progressive comedy circuit still has a critical dearth of intelligent and aware black female voices.
KMT – from the Caribbean expression 'kiss mi teeth', showing displeasure – is her debut, two years after making the finals of BBC New Comedy Award, and in it she demonstrates social nous and a smart agenda… even if some punchlines still need sharpening.
Assured and soft-spoken, she's engaging company, her gently teasing nature a stealth cover for her views. She could even afford to push the envelope further, as her likeable manner offers a lot of latitude, but she's keen to keep her arguments reasonable.
There's amusing commentary on gentrification, cultural appropriation – mainly an excuse to repeat the pleasing name 'hip-hop chip shop' – and apartheid, yet the tone is more wry observation than a call to arms. She's politically engaged, but doesn't bang the usual drum, wondering where the 20,000 policemen Theresa May cut went to, or talking about Labour welcoming back voters who had defected to Ukip.
And not everything has to have a sociopolitical edge: jokes about upgrading a relationship are among her strongest, even before she gets onto mixed-race marriages, like her parents', which she argues isn't the signifier that racism is on the way out that we might all hope.
Kugblenu also offers her predominantly white audience some insights into black life that are less widely aired, such as the very significant downside of having dreads.
Her script still needs punching up in places, with payoffs that aren't developed enough, or seem a little forced. Evoking Brad Pitt and Jennifer Aniston to illustrated a divided America, for example, adds nothing, including jokes. And her thoughts on never feeling more British than when she went to Ghana in search of her roots and found the culture entirely alien is too similar to Gina Yashere's signature bit about Nigeria.
Overall, though, the impression is of a smart, relevant comedian, who may be still finding her feet, but has certainly found her voice.
Review date: 10 Aug 2017
Reviewed by: Steve Bennett
Recent Reviews
What do you think?