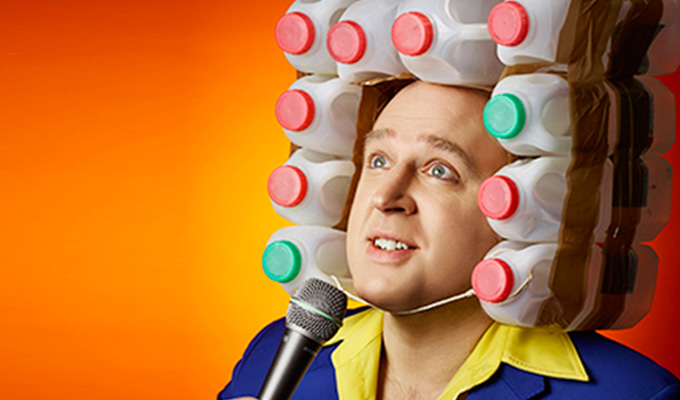 Tim Vine: Sunset Milk Idiot
Your first thought on entering Tim Vine's show will be: what the hell have they done to the Pleasance Cabaret Bar?
One of the best spaces at the Fringe has been desecrated - the wood panelling stripped away in favour of a dated, clinical look; the ancient headshots of famous comics when they were fresh-faced newbies gone, and the stage now in front of a bare-brick wall, like a 1980s comedy club. Why would they change something that didn't need changing?
Talking of which….
There's no surprise that Vine's set is the same formula as ever, an hour of quickfire puns, stupid prop comedy and snatches of song lyrics all delivered with a manic cheesiness, acknowledging the inane futility of the endeavour, but ploughing on regardless.
Maybe there's a bit more of his music and jingles than before, and as he's got older he's grown - or should that be groan – into the role of the king of the dad joke. But otherwise it's funny business as normal.
Some of the wordplay is inspired, some so contrived he has to hit the key word with just right mispronunciation to hammer it into the shape it needs to be. His is a cartoonish world which requires Hercule Poirot to walk into a hotel room and encounter Miss Marple with a teabag on her head for a gag.
He's bound to be on those 'joke of the Fringe' list again this year, as he's a master of the short, family-friendly gag that doesn't lose too much when reproduced in print. Though what is missing is the sense of him desperately trying anything for a laugh – from wearing an ice-cream cone hat to jaunty jigs – all of which dignity-defying stunts prove remarkably effective at pushing home these corny one-liners and wearing down any resistance.
Vine's lack of concern about being fashionable remains refreshing. He's got a section where he plays snippets of song lyrics as set-ups for gags, and where does he start? Jim Reeves, who's been dead for 53 years.
In this tour warm-up, there's occasional recourse to notes – not that it matters much, since for all the effort Vine goes to making his props and generating hundreds of jokes, this is not where you go for slick comedy entertainment. But if it's daft jokes you want, you should hear them through the great Vine.
Review date: 9 Aug 2017
Reviewed by: Steve Bennett
Recent Reviews
What do you think?