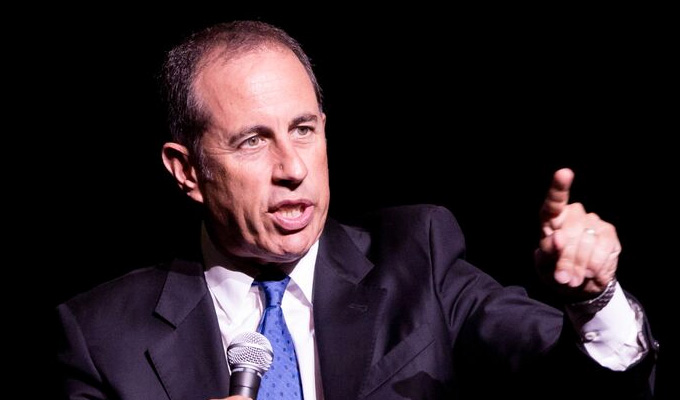 Jerry Seinfeld and Gad Elmaleh
It must have been a long time since Jerry Seinfeld opened for anyone, but in Francophone Montreal, he took second billing to Gad Elmaleh, the French stand-up star who went to university in the city.
However, Elmaleh would probably have done himself a service to have gone on first, because even though he is sometimes billed as 'the Seinfeld of France', following the real deal is a challenge few comics would relish.
For the 63-year-old New Yorker produced, to no one's surprise, a finely-tuned Bentley of a stand-up set: a precision-engineered ride, smooth and powerful, both classic and classy.
He's been doing this a long time: the opening section about 'going out' had its origins in the stand-up routine that prefaced the original pilot episode of the Seinfeld show. If a bit's not honed after more than 27 years, it never will be. Rest assured, it was honed.
Each of Seinfeld's routines is almost like a song, as he riffs around a theme from different angles, repeating key words like a chorus. When his wife tells him: 'I don't like your tone'. That's four minutes right there on the idea of a 'tone'. And, like a song, each perfectly-packaged batch of stand-up earns an applause break.
'What else in the world is annoying, except everything?,' he says by way of a segue, explaining is entire comic philosophy. Looking at he minutiae of everyday experience with that oh-so familiar nasal whine to find fault in our ridiculous shared behaviour. None of his 'what's the deal with?'s ever sounds forced, but a meticulous examination of the things we never notice, the very dictionary definition of observational comedy.
He covers both experiences and language, brilliantly pointing to the fine line between 'sucks' and 'great', the only two emotional reactions we seem reduced to. He's happy with 'not bad' (at least in life, professionally, it's clear his standards are far more exacting). Eating out's a big part of his subject matter, as too are the travails of technology. 'We're all up to speed on the beep,' he astutely comments on answerphones, before capturing the cold-sweat terror of having a phone on less than 20 per cent charge.
And, of course, scenes from domestic life are replayed, though with a one-sided bias that would Fox News to shame. Not every scene in this shines as brightly as his more general material, but the depiction is vivid – and we're never far from a universal truth, elegantly and pithily executed.
Although sparsely used, Seinfeld can bring a surprising comic plasticity to his face, too: the image of him imagining a cinema machine that fires popcorn into his lazy face is as enduring as it is silly.
Last night's gig at the Bell Centre area was Seinfeld first Just For Laughs performance since 1989 – 'it's not just for laughs, there's money too' – and it's fair to say he stormed it.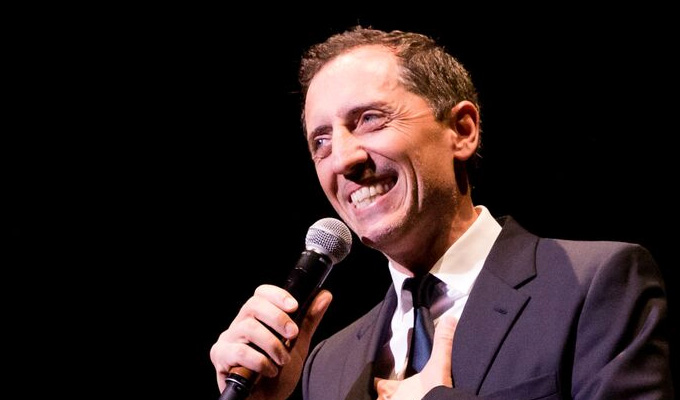 Elmaleh was more of a curate's egg, though he's clearly held in high regard by the locals, and region-specific material, such as his mocking impersonation of the Quebecois brought the house down. He's still relatively new to performing in his second language, but nonetheless managed some wordplay amid his confusion over our oxymoronic idioms.
However, it's not the material that's his strength - finding Americans either really fit or really fat, or being baffled by the emojis the young people isn't the stuff of legend. And 'I have two kids, aged 13 and three. One just sits around the house crying all day, the other is three,' does not seem a joke worth paying a three-figure sum to hear in a vast arena.
No, Elmaleh's strength is his super-animated delivery. He fair sprints back and forth across the stage, and that's just in the normal run of play. When he's acting out a scene he becomes a cartoon stick figure brought to life, delivering a punchline with a genuine jeté. And his illustration of how disco-dancing styles change as the nights wears on is a sketch that really rings true.
That physicality boosts some of his stand-up too, when he speaks about running riot in first class on an aircraft, it's a vivid Mr Bean-type image he conjures up. This more exaggerated depiction is what he's best at… the more personal stories, which largely seemed to revolve around him chasing girls seemed to lack the self-awareness that such behaviour doesn't quite befit a 46-year-old.
Review date: 27 Jul 2017
Reviewed by: Steve Bennett
Recent Reviews
What do you think?