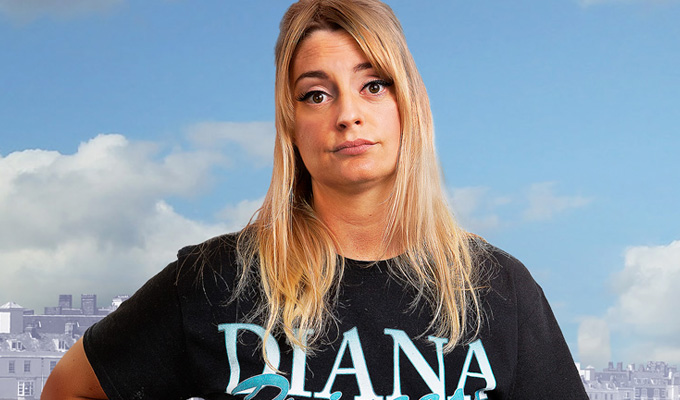 Sky's Summer Comedy Shorts
Morgana Robinson's Summer: Dream Land
If you think the short format of Sky's sporadic seasonal offerings would lead to an essentially sketch-based approach, think again, as there's a more three-dimensional feel to most of the new summer-based batch.
Certainly that's true of Sharon Horgan, who has penned this mini slice-of-life comedy-drama, set at a baby shower. As with most of Horgan's work, it's about the accidentally self-destructive behaviour of believable characters, made all the more credible thanks to her keen ear for realistically funny dialogue.
Events take place in Margate, the faded Kent resort that's becoming increasingly hip…although that demographic shift has entirely bypassed this group of girls, gathering to celebrate the very imminent arrival of Trish's first-born with party games including a rather ikky nappy-sniffing.
Trish is wonderfully played by Sheridan Smith – this is her short as much as it is Robinson's – bringing a physical comedy element to the way she hauls her expanded body around. Robinson is her slightly distracted sister Mel, resplendent in tacky Princess Di T-shirt, while the cast also includes Frances Barber as a Trish's mum, forever making (and consuming) Bacardi punch, and a nice cameo from Ed Aczel as a cab driver oblivious to the drama in his back seat.
There's a strong visual look, took, thanks to director MJ Delaney and some impressive prosthetics to give Smith the nine-month baby-bump.The shot of her exposed belly waddling towards the front door, as seen through he letterbox, is quite the image.
And overall, Dream Land is a rewarding short story, told and performed with wit and drama.
Vicki Pepperdine and Ellie White's Summer
This is set in the same Britain that encloses Summerisle and Royston Vasey, and is just as weird and unnerving as that combination of The Wicker Man and League of Gentlemen suggests.
The writers play members of a Morris dancing troupe whose rehearsals catch the intense eye of Martin (Toast of London's Harry Peacock), with his wordless, sinister gaze apparently his way of seducing the naive Anne (White).
Morris dancing's origins as an ancient fertility rite comes to the fore, and the zippy script is full of delightfully odd lines to complement the awkward sexual tension and disquieting setting of isolated rural life.
Pepperdine plays to type as the mother hen, fussily organising everyone, and the eccentric cast also features Katy Wix as fellow dancer Blodwen, who helps Anne tease out her sexy side.
With obvious appeal to fans of offbeat comedy, this short deserves at least two watches to pick up all the off-kilter lines that could become obscure cult classics.
Jocelyn Jee Esien's Summer
It's carnival time! Although the full splendour of Notting Hill is beyond the budget of a ten-minute film, so here we see a mother and her daughter walking through a park en route to the event, resplendent in a peacock feather outfit that binds them together - making explicit the ensuing metaphor.
Esien is the daughter, while EastEnders actress Ellen Thomas plays the mum, being outrageous, domineering and irritating – very much in the style of Miriam Margolis in the recent BBC Four comedy Bucket.
Their sniping dialogue crackles with insults, though the device of Esien daydreaming ways to despatch her annoying mother seems an overdone trope. However the alternate reality device provides a sweet payoff about the feelings that go unsaid.
Emma Sidi's Summer: Last Resort
You might not think this a comedy were it not labelled as such, for this is an precise character study, a showcase more for the impressive acting talents of Sidi and her co-star Kath Hughes, from the sketch troupe Gein's Family Gift Shop, than for gags.
The pair play 27-year-old friends on holiday in Corfu. Hughes' Becca is looking forward to lazing by the pool, but Sidi's Alex, fresh off a breakup, wants to relive the dabuchery of her youth.
She stinks of desperation – as well as vodka – as she tries to recreate those carefree times of being a 'down and dirty ho bag'. But such a wild life isn't actually much fun any more, no matter how much she tries to convince herself it is,
It's a mesmerising performance from Sidi, and will do wonders for her acting CV, though the tragi-comedy definitely has the emphasis on the first half of that hybrid word.
David Earl & Joe Wilkinson's Summer: Giddy Up Gunty
In complete contrast to the above, Earl and Wilkinson's script, punched up by Father Ted's Arthur Mathews, is out-and-out gags, and hang the realism. Or indeed the 'summertime' premise, come to mention it… although the sun is admittedly shining on the Wild West settlement of Grubtown, Texas, where the action takes place.
Here Earl – also known as Brian Gittins on the comedy circuit or Kev to viewers of Ricky Gervais's Derek – plays another member of the filthy underclass, a pigsty owner who spends his days in the saloon (where Jayde Adams tends the bar) with his equally shabby pal Gulch, idolising the outlaw culture.
Gulch is played by Dan Skinner, not far from his Angelos Epithemiou character… a man who hilariously struggles to get his lips around the phrase 'sticks and stones may break my bones' while harbouring a phobia of sausage-shaped objects.
Meanwhile Wilkinson is… well you really have to see it to believe it, but let's just say pivotal to Brian having to act out the tough life he fantasises about.
It's all very silly, with tones of Carry On Cowboy – right down to Earl channelling a Sid James-style laugh – but with better jokes and a more surreal undercurrent. Of all the shorts, Giddy Up Gunty, feels the most fun, certainly more an escape from the real world that a reflection of it.
Ahir Shah's Summer
It's interesting that this is released so close to the forthcoming movie The Big Sick, which also concerns how an Asian family deals with a son's relationship with a white woman.
But while in the film Kumail Nanjiani's parents are strict traditionalists, in Ahir Shah's short, the grandmother character is happy with the romance – but against the idea of them moving away to India. The similarities, though, lie in a realistic depiction of the ordinary asian family lives, swapping embarrassing baby photos and semi-affectionately teasing each other, that is rarely seen on screen. Where there are undeniable cultural and generational differences, they come with nuance not cliché.
Shah's character Viraj is certainly somewhat detached from his heritage as a third-generation immigrant, and his planned return to India with girlfriend Poppy (Freya Parker) is an attempt to figure out where he fits between the two cultures. Even though it baffles gran (Leena Dhingra), who worked to hard to get out of the country.
Add in some comments about the likes colonialism through charity, leaden with politics but very lightly delivered, and you have an intriguing premise.
While ir is wryly witty more than a laugh riot, Ahir Shah's Summer feels like a pilot for a full comedy-drama more than any of the other shorts. A situation in which Viraj and Poppy come to terms with their new life on the sub-continent is certainly fertile ground for stories. You can almost see the cutaway shots of colourful chaos in the streets now…
Andrew Flintoff's Summer: Pacino & Bert
The former Test cricketer is already Sky entertainment face thanks to his role on A League Of Their Own, and now he makes his acting debut in this short, written by Daniel Maier.
It turns out he's a more than passable actor, at least in the role of nice-but-lonely guy who awkwardly tries to start up a conversation with a girl (Miranda Hennessy) who he repeatedly encountered on his dog walking trips to the beach.
Director Dan Zeff and his director of photography James Swift have made the film – and the titular dogs – look great. The laid-back feel extends to the script, too, which is a slow-paced study of an unconfident man nervously rehearsing what to say, only to be wrongfooted by the spontaneity of actual conversation.
Again not gag-heavy Pacino & Bert is a sweetly amusing and rather wistful offering, not least in its ending.
• All the Summer Shorts are now available on Sky on demand and Now TV. They will be broadcast on Sky Arts in July.
Review date: 30 Jun 2017
Reviewed by:
What do you think?