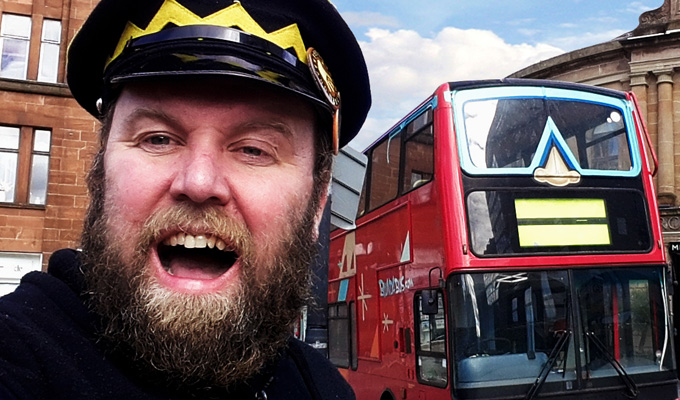 Heroes of Fringe: Launch Show
Note: This review is from 2017
It seemed like every comedian in London was at one of two gigs last night. The big stars were at a massive West End fundraiser for injured comic Jim Tavare, while in the Soho Theatre's basement, a showcase of weird and wonderful talent encapsulated the revived spirit of the 1980s alternative comedy scene that gave us the likes of Tavare in the first place.
The occasion was the launch of the Edinburgh Fringe programme for the Heroes venues, run by the spiritual son of alt.comedy godfather Malcolm Hardee, Bob Slayer. Slayer might appear to be a chaotic drunk, but he's making a reality of his vision of an Edinburgh Festival festival that's both more democratic and more idiosyncratic.
Last night's showcase packed in 20 eclectic acts performing the briefest of samples of their wares (and fans of such a pacy format should be aware of Chortle's own Fast Fringe coming up on the 25th). As Simon Morley, co-creator of Puppetry of the Penis, pointed out: 'I've travelled the world getting my cock out, and I'm the most normal person on the bill', as his practised storytelling seemed a poor fit with the other oddballs
Straight stand-ups had their place: slick and domineering New Yorker Desiree Burch (now resident in Croydon) opened the night; nice-guy anecodalist Carl Donnelly combined farting with Lady Macbeth in a short yarn;, Glenn Wool machine-gunned out the bestiality jokes; and Brendon Burns blasted us with suggested advertising slogans for Monster energy drink, for those seeking a less life-ruining substitute for cocaine. Meanwhile, Phil Nichol could only deconstruct the artform, offering his version of a 'sad comedian dying' in his three minutes before storming off in a mock huff.
It was primarily a night of odd occurrences. Adam Larter singing a song about hating plates, illustrated with alternative ways of presenting food; Beth Vyse's alter-ego Olive Hands introducing us to her new offspring, a foot, before Joz Norris performed a deliberately low-rent routine as a baby himself; Michael Brunstom creating an enduring, and very silly, topsy-turvey image as he executed his 'perceptual acrobatics'; or the ethereal Lucy Hopkins leading a surprisingly graphic sexual mime.
Spencer Jones was a triumph, as always, now seeming closer to Tommy Cooper than Mr Bean with his silly prop comedy, getting a laugh without apparently doing much. John Kearns shows ever-increasing mastery of his insular persona, exaggerating the mundanity of chatting with the local cafe owner; Tim Renkow had a great story about a weirdo on the bus – who for once WASN'T him, while newly-married Bobby Mair is definitely the odd one in all his creatively-written jokes.
Others still challenged the concept of teasing their shows: Ed Aczel leafed disappointingly through his half-written script, trying out some unlikely audience banter that might pad it out; Luke McQueen nervously tried to skirt around any punchlines lest he spoil the surprise come Edinburgh; and Phil Kay – a rambler who has surely never done a three-minute set in his life before – quickly surmised the stories he hoped to tell, robbing them of all humour and drama… and in doing so proving just how much magic a skilled storyteller can bring to an anecdote.
Oh, then there was Marny Godden as a gobby, mohican-headed loudmouth, strutting the stage and flashing her solitary tooth; and the Evil Dead II as performed by Elvis.
But the strangest thing of all about this night? It ran tightly and to time. Told you Bob Slayer isn't quite the shambolic mess he projects…
All the acts are appearing at his Heroes venues in Edinburgh this August: Bob's Blundabus, the strange-smelling Hive nightclub, the Dragonfly and, new for 2017, the city's new purpose built stand-up venue, Monkey Barrel Comedy Club. That way madness lies, come August.
Review date: 13 Jun 2017
Reviewed by: Steve Bennett
Recent Reviews
What do you think?