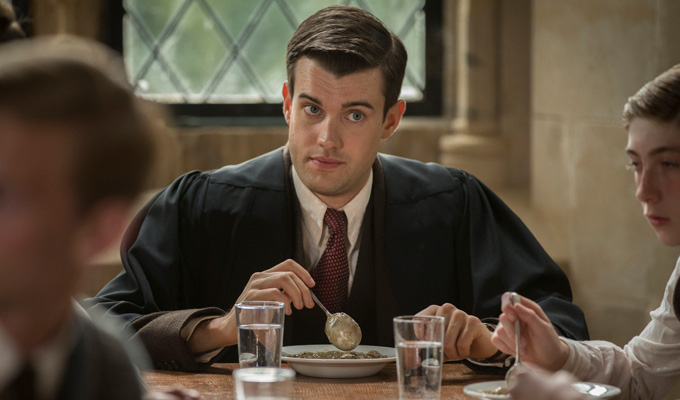 Decline And Fall with Jack Whitehall
Imagine such a bygone world where someone would get a job they are ill-suited for, simply because they are posh. How foolish! Still, it will be interesting to see how George Osborne's London Evening Standard reviews the new BBC One adaptation of Evelyn Waugh's stinging social satire Decline And Fall.
In his biggest role to date, Jack Whitehall plays the central character of Paul Pennyfeather, an unworldywise Bible scholar who winds up teaching in a very minor public school after being sent down from university in ignominy.  His crime was actually being not posh enough, at least by the standards of 1920s Oxford. For while he was the victim of a vicious debagging by the hoorays of the Bollinger Club – as part of high-jinks that involved a pig's head, no less –  the fines of the well-heeled perpetrators could bolster the college finances. Pennyfeather, in contrast, is far more expendable.
So after a cursory interview with Kevin Eldon, as an employment agent specialising in finding work for just this sort of situation, Pennyfeather finds himself among the other misfits and loser teaching at Llanabba School, a limbo-on-earth run by the gloriously unsympathetic and pompous Dr Fagan, played with delicious deadpan by David Suchet, who we first meet flanked by his strange daughters, played by comedy favourites Katy Wix and Gemma Whelan.
All the cast play their grotesques with understated panache, especially Vincent Franklin as the timid wig-wearing Mr Prendergast and Douglas Hodge as Captain Grimes, whose CV is a collection of scrapes with authority. But this is undoubtedly Whitehall's show – and while he played an incompetent  teacher in Bad Education, his performance here is more subtle and sympathetic, and will surely lead to more calls from casting agents seeking bumbling but well-mannered Englishmen.
Waugh's dialogue bristles with wry, pointed ironies, which Rev creator James Wood, who adapted the novel, has maintained well. Director Guillem Morales, who previously worked on Inside No 9, has also added some nice visual flourishes in keeping with that tone, too. Note the overpowering threat of horror as Pennyfeather approaches the classroom door to his first lesson – only to be greeted by a seemingly pleasant bunch of youths. For it turns out their torture of him is to be far more psychological.
This being Waugh, absolutely everyone behaves with an appalling lack of morality or sensitivity, of course, yet the writing and performances here are sympathetic and credible. That lets the wit emerge naturally, not hammered out with the sledgehammer of caricature. The result is as classy as the costume drama looks on screen.
• Decline And Fall starts on BBC One at 9pm tonight.
Review date: 31 Mar 2017
Reviewed by: Steve Bennett
Recent Reviews
What do you think?