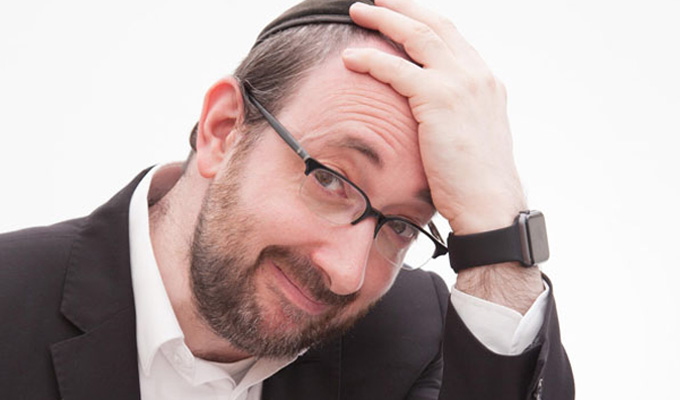 Ashley Blaker: Meshuga Frum
Note: This review is from 2017
At long last, a Jewish guy gets a break in comedy….
Of course modern stand-up has its roots in the Jewish-dominated New York showrooms and Catskills mountain resorts – and like those early days Ashley Blaker is performing to audiences very much like him. He is billed as a Britain's only Orthodox Jewish comedian – which is actually an unorthodox existence, just what stand-ups thrive on. But while outsiders might be interested to hear about his life, Blaker's stand-up is squarely aimed at his own community.
His punchlines are often Hebrew or Yiddish words that are opaque to a goy like me. 'Your sukkah is not kosher!' 'I wonder if he reads megillah at Purim!' Blaker is a TV producer who worked with Matt Lucas and David Walliams, but these don't exactly have the playground quotability of 'yeah, but no but yeah…'
However, his comedy does make his niche audience feel bound as a community, creating a sense of belonging (all comedy does, really, however much stand-ups hope to challenge). There are lots of laughs of recognition as he reflects their world back at them. But observational comedy only works if you recognise the observations, which left this gentile dumbfounded for most of the near two-hour show. But for those in the know, mere mention of something like 'Shabbat UK' tigers giggles, the religious initiative clearly already such a joke to this crowd that he needn't add more.
Some routines he contextualises, such as the fact the fact there's always a guy – and just one guy – in schul (synagogue) who wears a bow tie. That's a concept everyone can get. Or the idea that Jewish drivers want to park super-close to their destination, even if it means stoping in the middle of the road with their hazard lights blinking. However a couple of times he suggests 'only Jews' would do something when the behaviour is probably more universal – again it's all about the bonding.
Of the sections with broader appeal, many could do with a sharper edit. He spends a long time incredulous about how sushi became a Jewish food, but it never really goes anywhere. Just knowing 'that's so true!' seems to be enough. The story about him seeking help turning the lights on while observing Shabbat on a Friday night – as it's a task his religion forbids him from doing after sundown – is a very funny premise, but again strung out too long.
If such a situations seems extreme to an outsider, that's the very premise of the show. 'Frum' means pious and 'meshuga' means crazy. He gently mocks himself for being devout, as well as those either more or less observant than him, using the tried-and-tested format of lists of behaviour that's Jewish versus goyim, or frum versus meshuga frum.
Plenty is certainly interesting, the virtue-signalling significance of Jewish people putting 613 in their email address; the ultraconservative newspapers that won't publish photographs of women, even if they happen to be Prime Minister; the trend for parents to invite a token black guy to bar and bat mitzvahs to show the teenagers how to dance; or even his own experiences of being a TV producer who won't have a TV in the house.
But Blaker – who cut his teeth on the London comedy circuit back in the day and became 'frum' around 20 years ago – doesn't aim to transmit his experiences to a wider audience. Instead, his target is the largely older crowd who live like him, or at least close enough to identify. How small is the community? He recognises one heckler at this gig in Radlett (the British village with the largest percentage of Jewish residents, more than 28 per cent) as a rabbi from Bushey, just from his voice alone.
When listing things that are goyim, not getting much of this show has to be on the list.
Review date: 19 Feb 2017
Reviewed by:
Recent Reviews
What do you think?