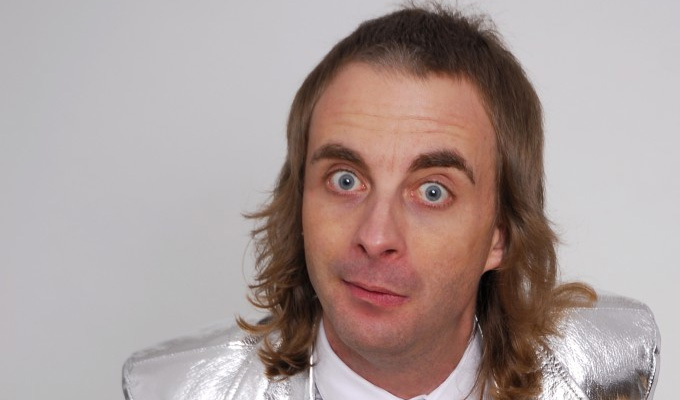 Paul Foot's Game Of Dangers
No one in their right mind would put the absurd and unpredictable Paul Foot in charge of a game show. So he's done it himself, given that 'being in his right mind' is not a charge he's ever knowingly guilty of.
Game Of Dangers is, on the surface, a quiz show based on unlikely stories of survival and Darwin-Award-worthy deaths, with two teams competing to unearth what really happened in the strange-but true tales. So far, so straightforward.
However, it is not the game itself that's the draw, but Foot's grand pantomime which surrounds it. In the set-up, he prowls the room, clambering over the furniture and getting uncomfortably close to people as he waxes lyrical (sarcastically, some might venture) about the great atmosphere we have, or the relative merits or otherwise of audience members who may be chosen to compete.
It's him marking his territory as he points out the dangers both physical - climbing on chairs – and artistic of this freeform stream-of-nonsense endeavour. There's certainly a feeling that you're never quite sure what will happen.
He sometimes stumbles over words, committing himself to the weird and wonderful new directions that takes him. His bizarre monologue and actions echo an appearance that instantly earmarks him as an outsider – tonight he's wearing a jacket with hefty rubber shoulder pads, a chunky necklace and, for some reason, a combination lock attached to his belt. There's a real spark of madness to him, and it's as intoxicating as it is unpredictable.
Comedians are, eventually and convolutedly introduced as the team captains – tonight Carly Smallman and Tom Ward – and a couple of the punters selected as their unwitting teammates.
After the insanity of the set-up, the quiz show element is something of an anticlimax. Although the underpinning stories may be ridiculous, the game is treated sincerely, which isn't the best use for Foot's singular talents. Sure, there's a veneer of slightly surreal banter over the top of proceedings, but it's not particularly Footean.
But then to close the show, another inspired idea hits him on the spur of the moment and he decides that the contest will be won by which of the teams can display the most convincing 15 seconds of homosexual behaviour. The awkwardness he's plunged the heterosexual players into is mined perfectly in the build-up, as he gets increasingly excited by the prospect. Props, too, to those on stage, especially the audience 'volunteers', Adam and Annie, for being so game in their participation, making it a  memorable few minutes of improvised silliness.
So forget  the Game Of Dangers itself, it's the topping and tailing of the show, with Foot untethered to a format, that proves brilliant, unpredictable entertainment.
Review date: 13 Feb 2017
Reviewed by: Steve Bennett
Reviewed at: Leicester Peter Pizzeria
Recent Reviews
What do you think?