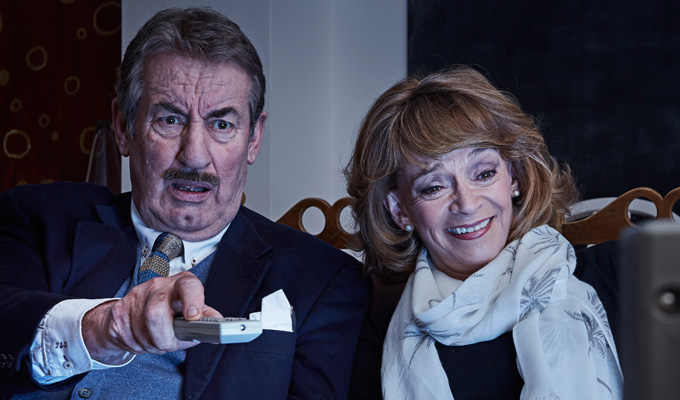 We Have Been Watching
Earlier today the Gold channel released some vacuous PR guff about Fawlty Towers being the favourite sitcom among comedians. Just in time for its heavily-promoted new series We Have Been Watching to ruin Cleese's classic.
If it is such a peerless sitcom – which it is – why wreck it, and other classic shows, with this format in which the meticulously plotted set-ups are ditched for out-of-context clips and the precise farcical timing demolished with cutaways to vacuous celebrity interjections.
We're used to clip shows repackaging the same old comedy moments, from 'don't tell him, Pike' to Del Boy falling through a bar as broadcasters force them into the national consciousness with the subtlety of Trump yelling: 'Make America Great Again' until it sticks. We Have Been Watching, is a further extension of that.
It's clearly a rip-off of Gogglebox – a terrible idea on paper that worked against the odds, largely because of the engaging nature of the real families chosen. Likewise, this is based on the enjoyment of watching the celebs slightly off guard, especially when they seem to be genuine friends, such as Nish Kumar and James Acaster. 
But if you come to enjoy the original shows, you'll largely be disappointed as it so often reduces great comic writing as little more than triggers for shots of celebrities laughing.
One of the Fawlty Towers clips chosen, for example, was the oft-seen one of Basil beating his broken-down car with a branch – a scene that is funny; but mainly in the context of the frustrations eating away at this incurable snob as he tries desperately to stage a gourmet night to improve his ailing hotel's status. But that build-up doesn't fit in the approximately 30 seconds of the show we get, interrupted every few seconds to show the likes of Ricky Tomlinson, Johnny Vegas and Boycie from Only Fools And Horses chuckling away. And to think sitcoms usually get slated for intrusive laughter tracks….
There's often little insight, beyond the celebs saying they love the shows. David Baddiel and Richard Herring, to their credit, do try to offer some useful commentary on this clip, pointing out how director John Howard Davies skilfully kept the shot on the broken-down car while Fawlty ran off to get the branch.
Elsewhere the TV watchers parrot the catchphrases of Harry Enfield, while describing Kevin The Teenager as 'a great sketch' or 'so good'. Likewise, Steptoe And Son, so often praised for being half-hour dramas full of futility and tension, reduced to about 30 seconds from the 'pickled onions in the bath' scene to be picked over with the usual platitudes.
Occasionally there's a hint of grit – Boycie actor John Challis pulls some great faces when he doesn't get The Office - but since most of the shows highlighted are part of the Gold schedule they are never going to put too many naysayers into the mix.
So this is a bit of fluff; an attempt by Gold to refresh its catalogue of the same old shows. Sadly it's rather disrespectful of those classics to treat them like this.
Review date: 4 Jan 2017
Reviewed by: Steve Bennett
What do you think?