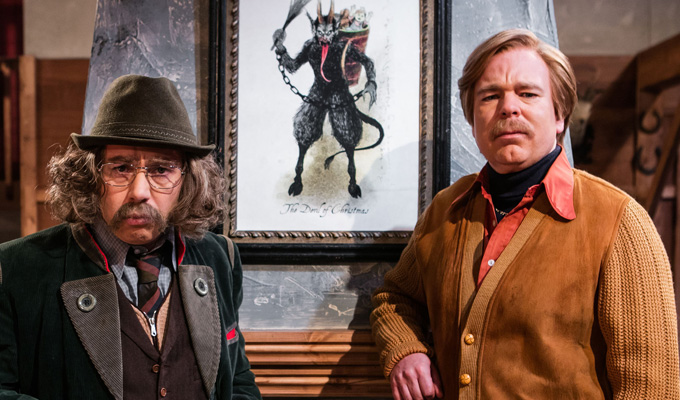 Inside No 9: The Devil Of Christmas
Note: This review is from 2016
Reece Shearsmith and Steve Pemberton have taken a leaf out of the Garth Marenghi's Darkplace playbook for the much-anticipated return of Inside No 9, give or take a decade.
The Devil of Christmas is a painstakingly faithful reproduction of the Hammer Horror style of production from the 1970s, with its 4:3 aspect ratio, slightly off-hue colours – including candles leaving light trails on screen – theatrical positioning of actors and none-too-accurate sound effects. Their attention to the period's lack of attention to detail is meticulous.
And it's not just visual clichés that are well-parodied. In keeping with programmes of the time someone isn't just scared, they're 'shaking like a leaf'; they're not cold, 'they'll catch their death' – the sinister literal meaning of that phrase heavily signposted.
This tale draws on the Alpine legend of the Krampus, the legendary counterpoint to Santa Claus, a half-goat, half-human demon who doesn't reward good children – but punishes bad ones. It's a chilling story that's told by caretaker Klaus to the Devonshire family – Julian, his pregnant wife Kathy (Call the Midwife star Jessica Raine), their son Toby and mother-in-law Celia (Rula Lenska) – as they arrive in their winter chalet. It puts the wind up little Toby (George Bedford), despite the reassurances of his father.
Pemberton well captures the sort of trained luvvie who'd slum it in these 1970s potboilers, declaiming each line as if in some provincial Shakespeare production. And Shearsmith looks every inch the part of the weirdo local, replete with droopy moustache and scraggly hair.
The Devil of Christmas is a pastiche of a genre that could only come from people who adore it, with precise details picked up from repeated watching. There are a couple of Acorn Antiques-style moments of blocked shots and obvious fakery (not least a wonderfully dispassionate kiss) but most is more subtle.
And despite the cheesiness of the presentation, the story itself is pretty creepy. As with the the originals, the power of great storytelling overcomes technical and budgetary shortcomings, and Shearsmith and Pemberton sure know how to tell a chilling story.
As with most Inside No 9s there a big twist in the tale you'd be hard pressed to see coming, and which certainly whets the appetite for the forthcoming third series.
• Inside No 9: The Devil Of Christmas is on BBC Two at 10pm tonight.
Review date: 27 Dec 2016
Reviewed by: Steve Bennett
Recent Reviews
What do you think?