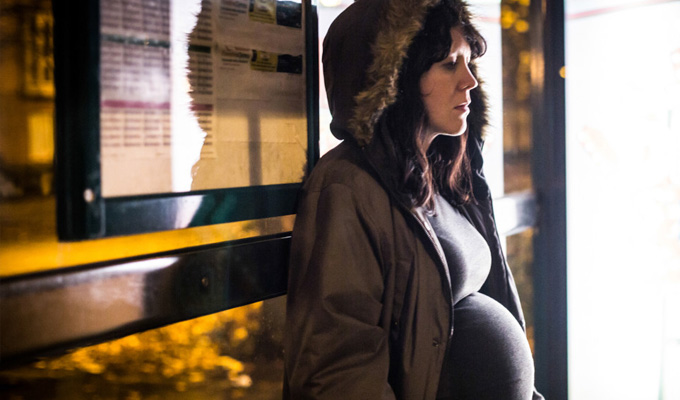 Prevenge
Prevenge was screened in the 'laughs' comedy strand of the London Film Festival, but the humour in Alice Lowe's directorial debut most definitely of the jet-black tone. Its tone is bleak and unnerving, with only the occasional dry comic moment offering relief from the brutal actions of its serial-killing anti-heroine, Ruth.
The twist – which gives us the titular portmanteau only slightly less ungainly than Brexit – is that Ruth is heavily pregnant, her killing spree dictated to by the unborn human inside her. It's a high-pitched voice in her womb, not her head, that's urging her to murder.
'You have no control over your mind or body,' a midwife plays with Jo Hartley tells the mother-to-be, urging her to listen to what this new life tells her. Ruth – played by Lowe when she was seven moths pregnant – sees it more of as a 'hostile takeover' of her body.
She starts by seeing off some of the most objectionable examples of masculinity. Dan Renton Skinner as a sleazy pet-store owner offering to touch his 'big fat snake'. Then Tom Lucy, relishing every vile trait of the despicable DJ Dan, slithering: 'I fucking love fat birds, you don't mind what people do to you.' It a memorable character who has the best brutally comic scenes in the movie.
In a twist on the usual reduction of female characters to 'Madonna or whore'; Lowe's men are unsympathetically portrayed as slimeballs or angels: Mike Wozniak has a fine turn as a super-nice guy unwittingly drawn into Ruth's murderous orbit.
She also knocks off an icy career woman (Kate Dickie), whose dismissal of pregnant women in the workplace reinforces the idea that ruthless Ruth is a sociopath who likes to make feminist points, and a sporty middle-class type played by comic and Game of Thrones star Gemma Whelan.
Prevenge is a bit of a slog from one grisly murder to the next, requiring a strong constitution to watch. There's little character or plot development, save for the emergence of a motive beyond doing away with scumbags, nor any real jeopardy about being found out. The chilling, disconcerting score by indie electro duo Toydrum offers little respite either, being so heavily evocative of a soulless urban underworld drained of humanity. Side note: it was shot in Cardiff (and in just 11 days in total).
The birth is the clear climax, a caesarean again shown in bloody detail, and a lot in this film rides on the cutting of the cord in more ways than one. Is Ruth spawning her very own Rosemary's Baby, or is it just antenatal hormones gone wild as she slashes her way through the population of Cardiff?
As a directorial calling card, Prevenge establishes Lowe as uncompromising, with plenty of uncomfortable, woozy scenes. But it's a tough ride, much heavier and more relentless than the last multiple-killer role she wrote for herself – in the Ben Wheatley-helmed Sightseers alongside Steve Oram. While that was still essentially a comedy with killings in it, the emphasis here has shifted to a slasher-thriller, with moments of jet-black humour
Review date: 17 Oct 2016
Reviewed by: Steve Bennett
What do you think?