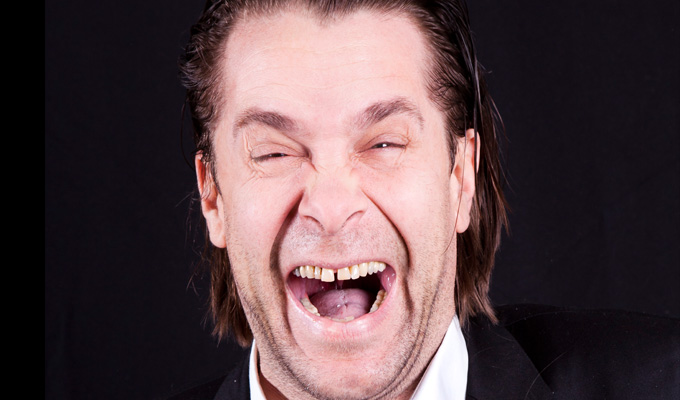 Hans Teeuwen: Real Rancour
Note: This review is from 2016
What to make of Hans Teeuwen? The Dutchman's angry, absurd nihilism has made him an influential force among those who enjoy stand-up as an artform, driven by the idea that provocation is as important as laughs.
But his Real Rancour show is scattergun even by his standards, his abnegation of moral codes extending to the conventions of comedy, producing lots of strange, intriguing moments, but too few of them laugh-out-loud.
He's never less than fascinating, and he's got the performance range to sell his wares well, turning on the jaunty entertainer whenever needed. He's a fine physical comedian, demonstrated right out the gates by the ass-jiggling jazz number that sets the cabaret mode. He's able to act out whatever peculiar scene he's evoking with compelling vigour, from choking a donkey to death to a Jewish circumcision.
Part of the complicated joke is that he'll do absolutely anything to entertain us; the audience being his true love, above even his family, and he certainly throws himself into that with a borderline-psychotic dedication. The strange, unaccompanied songs certainly put a jaunty sheen on peculiar dedication.
His set is a bonfire of the niceties – political correctness being anathema to his ideas of free speech. That ranges from the relatively benign mocking of French insouciance to sarcastically referring to Muslims having a 'joie de vivre', which might cause a nice liberal to bristle as it happily plays into the reactionary mainstream portrayal of the uncompromising, fundamentalist end of the faith. But then an extremist did kill his friend, the controversial director Theo Van Gogh, so you can understand his impoliteness. Besides, why is one stereotype OK but the other not, is the implied point, while he bluntly tells the bleeding hearts that 'feeling bad doesn't make you good'.
Sometimes the provocation is easily identifiable as tongue-in-cheek, such as his querying whether it's acceptable to be proud of the colour of your skin. Meanwhile his more sexually explicit material could show Donald Trump how you can talk about stroking a pussy without it being vile… but it is still a bit creepy.
But often Real Rancour feels like a train-of-thought without focus – or at least comedic focus – as he disappears up his depraved flights of fantasy without anything so mainstream as a punchline to get him out of it.
It was ill-advised to book such an obviously cult act into the 1,700-seater Brighton Dome – whatever his popularity back in the Netherlands. And the half-filled room sees a slow but steady stream of walk-outs. It doesn't seem like they are morally outraged, more like dissatisfied customers regretting their ticket purchase. In the benefits of balance, I'll mention the one person who gave Teeuwen a standing ovation, too.
The show is interesting, most certainly. Funny? Well, that's a more ambiguous question. There are certainly nothing like outrageously hilarious set pieces that have made his name. And while Teeuwen thrives in such uncertainty, a lot of audiences might want a more straightforward route to their laughs.
Review date: 15 Oct 2016
Reviewed by: Steve Bennett
Reviewed at: Brighton Dome
Recent Reviews
What do you think?