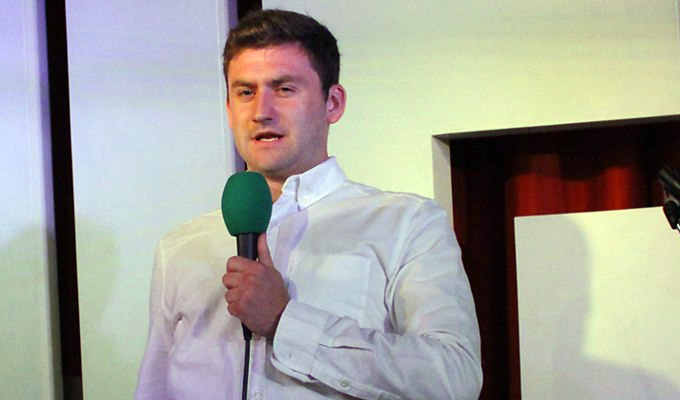 Birmingham Comedy Festival Breaking Talent Award 2016
Once they had all performed, it was clear that that Birmingham Comedy Festival's Breaking Talent Award was a two-horse race.
In one corner, Tom Christian, with an appealing line in quirky, imaginative gags; in the other, the slick and wry observational comedy of Harv Hawkins. And in the end it was the latter who edged it.
He started uncertainly with a comment about always being in the 'friend zone' because he was too much of a nice guy being a self-diagnosis we didn't have the information to verify. Though his subsequent act certainly proved him affable.
Hawkins is not the first to notice that 'the dogs' bollocks' is not an obviously analogy for something good or to express irritation when someone else presses the button on the pedestrian crossing when you've already done it, but the fact he's relatable is key to his appeal.
He makes analogies between Monopoly and the real housing market and notes how far the Playstation 4 is from the games of a generation ago, with such mainstream observational commentary mixed with a smattering of Tim Vine/Twitter-style puns.
It's all crowd-pleasing stuff and he certainly got the best reaction of the night, all helping him take the title. Just a year into his stand-up adventure, I'm not sure he's quite found a distinctive voice yet, but he has mastered a lot of the tools in the comedian's utility belt to get the laughs
Christian was rougher around the edges, but more interesting in the writing. Even the old trope of saying what celebrity he looks like – an albino Meatloaf, should you want to know – is given a twist beyond the initial ice-breaker.
A couple of times he slipped into easy jokes, but when he lets his sarcastic imagination run free, as he did with a calling-card routine about TGI Friday's, he really shines, and he was probably the most intriguing of the five finalists when it comes to his future potential.
Opening act Moses Ali Khan, who last month won the Hot Water Comedy Club New Comedian of the Year competition in Liverpool. cuts an intriguing figure, too, with a multicultural angle lto match his multicultural name. But he's not always particularly creative with it,for example in his list of 'things not to say to a woman in a burkha' seems pretty simple.
He also heads into the sick quite easily. There are a lot of dick/paedo/terrorists gags here, which he seems particularly quick to take refuge in, going for a cheap laugh over exploring his personality, even though he cuts an intriguing figure. We'll have to see where he ends up with this…
Richard Quarmby has the air of someone who's consumed a lot of comedy but not yet found his own voice. His opening poem about feeling like a 'middle-class ponce' smacks of Tim Key, his commentary about how his act's playing in various parts of the Glee Club room are pure Stewart Lee.
It makes the performance inauthentic at best, cynical at worst – even though he clearly has the ability to write a strong joke, which he frequently demonstrates. But he's a comic who needs to know himself better to unlock the potential of those gags.
In contrast, Ali Warwood seemed the most genuine personality on the night, chatting about he insecurities and home truths of her life as as a lesbian mother with a rare candour. She sometimes goes for a cheap gag about breast-feeding or 'queens', which weakens her, and there may be a question mark over where she takes this in a longer set. But likeability and honesty o a very long way, and she has both those boxes ticked.
Review date: 8 Oct 2016
Reviewed by: Steve Bennett
Recent Reviews
What do you think?