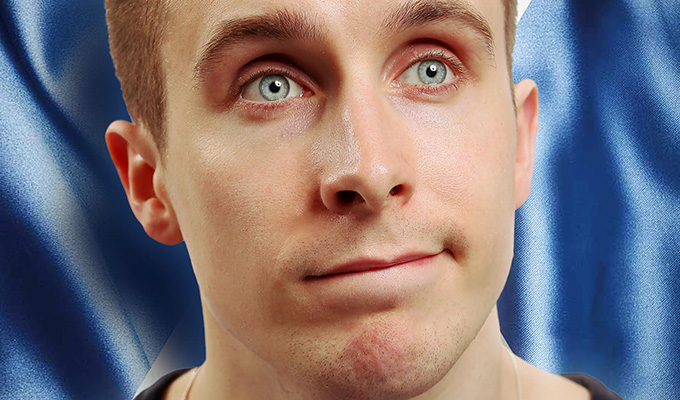 Larry Dean: Farcissist
Note: This review is from 2016
The Amused Moose Awards always put emphasis on 'star quality' over pure comic talent, seeking personalities who will be mainstream stars, rather than esoteric comedy-geek favourites.
Well, this year's winner, Larry Dean – performing at London's Soho Theatre as part of his prize – actually puts a big tick in both boxes.  He's a charismatic stand-up natural whose conversational style makes it all look so easy. But beneath the unaffected surface, there's a keen comic mind, crafting great linguistically tricksy jokes in a show underpinned with long-distance callbacks that are genuinely creative, not just a cheap trick.
Farcissist's title suggests self-reflection. But although it centres on his relationship with his posh mother, his grandmother and a couple of exes, it never feels like navel-gazing, rather a collection of anecdotes on a spectrum between amusing and hilarious, delivered with warmth and honesty. Some of the stories might seem slight if in less capable hands, but Dean has the knack of elevating them into something more, without the process feeling forced.
The profile bio is easy: he's a gay Glaswegian who falls into neither stereotype of being camp or aggressive… and actually doesn't care for some of the physical aspects of a homosexual relationship either, which he discusses with typically casual frankness. Sometimes, he pushes himself into an honesty that he's not entirely comfortable with, triggering a stammer that's otherwise largely conquered, which only adds to the likeability.
He makes his life seem interesting, and not just the more obvious comic potential in stories of being an Elvis impersonator or one-time criminal, but in everyday relationships. There is emphasis on the 'farce' part of the portmanteau title, too, for example with a prostate exam story that is certainly a unique take on the clichéd topic.
His personality is a winning combination of being daft and being a smart aleck – no wonder he likes the childish but inventive 'yo mamma' insults, which play to both those strengths. And his performance arsenal also includes spot-on character sketches of the people he encounters, from 'London wankers' to lizard-like pensioners. Even when his accents fail him – his Melbourne tram inspector must have spent a lot of time in Johannesburg– that becomes an added joke, for Dean is certainly au fait with all the conventions of stand-up.
Comparisons with fellow chatty Glaswegians Billy Connolly and Kevin Bridges might be easy to make, but that doesn't make them invalid.
Review date: 28 Sep 2016
Reviewed by: Steve Bennett
Reviewed at: Soho Theatre
Recent Reviews
What do you think?