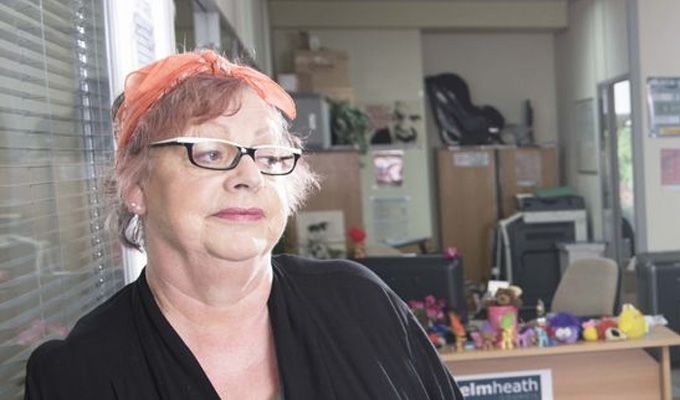 Damned
Note: This review is from 2016
'Damned if they do, damned if they don't' is the set-up for Jo Brand's new comedy, set in the children's department of a social services department where the staff are torn between intervention and more passively doling out advice.
As a writer, with Morwenna Banks and Will Smith, Brand faces a similar – if hardly life-altering – dilemma: how much of the grim work of the unit is shown while still maintaining the comedy.
There are certainly some bleak moments in Damned – arriving at Channel 4 tonight following a Sky pilot in 2014 – especially when Brand's character Rose leaves the office on her case work. When she finds out what happened to a long-forgotten ex, and the miserable situation their grandkids are in, it's a sucker punch.
Elsewhere in this first of six episodes there are neglected children and inappropriate drinking. And to use the corniest punchline of them all '…and that is just the social workers!'
For the tangled lives of the staff and their work is the driving force; whether it's Rose balancing childcare arrangements with ex-husband Lee – a return to TV for Nick Hancock – or her colleague Al (Alan Davies) trying to diplomatically extricate himself from the attentions of former client Anne-Marie (a winningly desperate Aisling Bea) hooking on to the only man who's ever show her kindness, even if that is because it's his job.
The world, inspired by Brand's mother's lifetime career in social work, seems utterly genuine – thanks largely to that central friendship between Al and Rose, both robust characters with difficult lives and a dry sense of humour, which gives the show a warm heart.
Then there's the office politics, with poor put-upon Nitin (Himesh Patel) being given a tiny taste of power when asked to monitor this colleagues by boss Denise (Georgie Glen); with the rest of the team made up of Martin – that faux-cheery but probably ineffectual character Kevin Eldon does so well – and chirpy but useless temp Nat (Isy Suttie)
The authenticity helps the gear changes between comedy, drama and the political message of what happens at the blunt end of cash-strapped social work – even if balancing all the elements isn't always 100 per cent successful.
But it's intended as a mordantly wry, bittersweet look at an unglamorous world, rather than a laugh-out-loud funny romp, and on that metric, it succeeds. Although some of the overheard phone calls do help the chuckle quota, with the very first line being a parent asking: 'What's the recommended alcohol allowance for a 12-year-old?'
The shooting style owes a lot to the Thick Of It, with the wobbly mockumentary camerawork capturing the stress of the environment. Though undoubtedly the comparisons are strongest with Brand's NHS comedy Getting On, which could easily be seen as an equally realistic companion piece to Damned.
• Damned is on Channel 4 at 10pm tonight.
Review date: 27 Sep 2016
Reviewed by: Steve Bennett
Recent Reviews
What do you think?