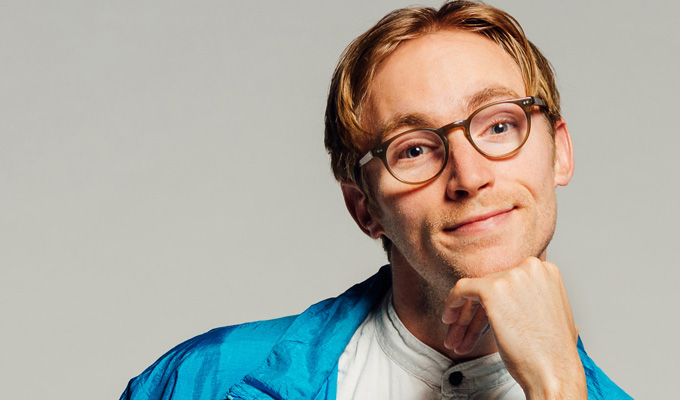 Rob Carter is Christopher Bliss
Note: This review is from 2016
Rob Carter writes awful, clunky dialogue… and I mean that as a compliment.
For the comedian has now turned his attention away from dryly funny musical compositions and on to character work through his creation Christopher Bliss – a dreadful, if prolific, novelist.
He proclaims himself the best author in his Shropshire village and can crank out two or three books a day to be enjoyed by his 'family and friend'. But now he's on stage following an Edinburgh run to give a wider audience to some of his unpublished work, such as the subtly titled A Murder And A Robbery On The Train From Shropshire To London, a whodunit with just two characters, one of whom ends up dead – and both of whom are called Michael.
But the bulk of the show is a James Bond spoof. Double 0 points for originality there. His debonair spy is called Henry Wrigglesworth and is such a high-roller that in the obligatory casino scene he nonchalantly slips £10 across the baize table. The villain is named Big Richard ('Big Dick' thankfully goes unsaid), and there's heavy-handed foreshadowing in the explanation of the gadgets, including the highest of tech, a portable DVD player.
Clad in nylon anorak, there's a touch of the Alan Partridge in Bliss's naivity. He's in thrall to the secret agent fantasy but dragged down by injecting his mundanity into the extravagant cliches of the genre. He writes cliche without knowledge: If Las Vegas needs an ocean for the glamorous girl to emerge from, then an ocean Las Vegas will have.
And like Steve Coogan's alter ego, Bliss is painfully unaware of both his lack of sophistication and his failures to grasp any subtleties of writing.
There's a sweetness to the spoof, and Bliss's awkwardness is well-judged. Carter portrays his lisping creation with tight precision, making him credible despite the ridiculous script.
However delivering this show as a book reading necessarily puts distance between performer and audience. And the approach can feel monotone, especially given that the Wrigglesworth story is pretty long. There's a reason this style of delivery is usually only a sketch.
Carter alleviates this with a smidgeon of audience participation, although it's the inventive 'inadvertent' subversions Bond tropes and of good style ('the train was covered in wind') that keep you listening.
Review date: 16 Sep 2016
Reviewed by: Steve Bennett
Reviewed at: Prince of Wales Brixton
Recent Reviews
What do you think?