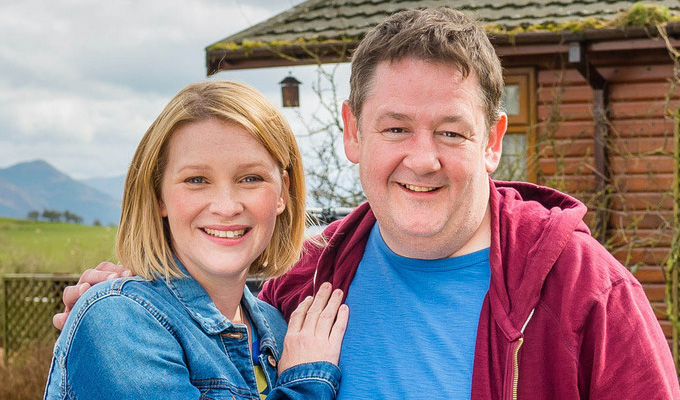 Home From Home
The latest pilot in the BBC's Landmark Sitcom series, Home From Home is a warm, gentle affair,
much down to the likeability of Johnny Vegas as a hapless beta-male, trying his best for his family.
He plays Neil Hackett, a modest man of modest means, shown to be rather ineffectual in life: whether it's trying to chastise a schoolboy who made rude gestures at him from the back of the bus, to the fuss he makes over wife Fiona (Gavin & Stacey's Joanna Page) removing a splinter.
Neil is the manager of a motorway service station branch of WH Smith – both north and southbound – who has scrimped and save to buy a second home: a holiday chalet in the Lake District. 'It's the start of a whole new chapter for this family. Our place in paradise. Our Shangri-La,' he tells his two sons as they sit in traffic. Of course they don't see it that way, denied the comforts of TV reception, let alone wi-fi, but they endure. This is a family that endures.
Their neighbours in the holiday park are Robert and Penny Dillon – wealthy, educated, erudite and with a history of high-living that the Hackett's can only envy. It's not quite explained how such a well-resourced couple ended up here after selling their high-end Ibiza bolthole, not somewhere more exclusive, but we have to make some allowances for the rules of sitcom.
There are shades of Ever Decreasing Circles here; the relationship between Neil and Robert very similar to that of Richard Briers's Martin and Peter Egan's Paul. Vegas's character might be a lot more sympathetic, but he's still jealous of Robert's effortless style and charisma, feeling his wife is getting a glimpse of a better life she could have had and heightening his insecurities over his failings as a man.
Despite the initial friction, the two couples get to know each other over a barbecue – where Neil brings frozen burgers even though Robert has a freshly-caught trout on the go. The sangria flows and the tensions dissolve… at least until Neil commits a major faux pas.
It provides one of the strongest laughs in a pilot episode that's more laid-back with its comedy, its agreeable tone a perfect fit with the aerial shots of the glorious Lake District scenery. The 'trying to get a signal from a TV aerial' is a gag as old as TV itself, but it's executed with considerable charm before the inevitable slapstick pratfall.
Affectionate characters and underplayed humour score in Home From Home's favour, with a tone closer to comedy-drama than a laugh-a-minute sitcom.
• Home From Home airs on BBC Two as part of the Landmark Sitcom season at 10pm tonight.
Review date: 30 Aug 2016
Reviewed by: Steve Bennett
Recent Reviews
What do you think?