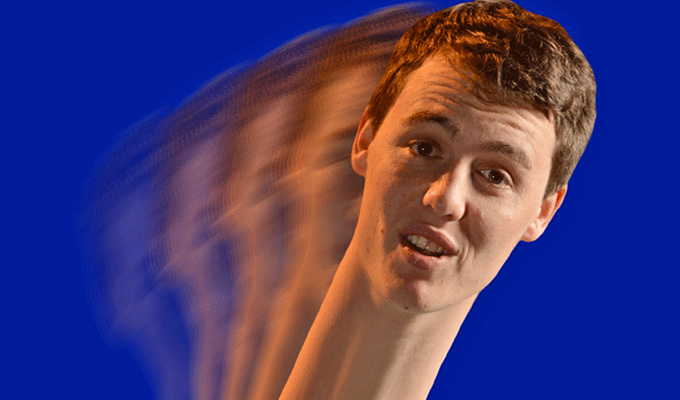 Sam Campbell: The Last Dreamer
Note: This review is from 2016
Sam Campbell's a funny man, both funny ha-ha and funny peculiar, but prone to self-sabotage.
In both aspects, he's similar to another Australian absurdist called Sam – and when Mr Simmons got the balance right last year, he scooped the big award.
You wouldn't put that same accolade out of Campbell's reach in future, for he fizzes with oddball invention in this wonderfully quirky show, revealing something of his neuroses and their sources while maintaining an edge of oddity. His opening song Mums Versus Dads, for instance, seems almost like a nursery rhyme sing-song, but reveals a sadness.
It's the same when he shows us a film about a date on the Thunderjet boat trip around Sydney Harbour, rejection and embarrassment etched on his face, while all around him are feeling exhilaration and glee, his isolation committed to video.
Campbell presents himself as a silly, vulnerable little guy, eager to make friends but racked with social inhibitions that cripple him. So he seeks solace instead in peculiar passions, such as his pet axolotl, a word that's just inherently pleasing to hear repeated, and noodling around on his computer to create the animations he shows here.
These interludes give The Last Dreamer a scatty sketch show feel as he moves from idea to idea: his redesign of the human form showing God where He got it wrong is an imaginative delight; the ballad of Phillip Seymour Hoffman childishly silly and infectiously cheery.
Dressed in rollneck jumper and with a mop of curly hair, he calls to mind a young, less goggle-eyed Marty Feldman, and may be just as creative – and just as much of a misfit drawn to chaos. For Campbell noticeably fights back a frequent compulsion to say or do something that would derail his show, apparently not trusting himself when it's going well.
But he should reassure himself: he's an impish, distinctive comic with a flair for the absurd. The biggest hurdle on the route to success is himself.
Review date: 23 Aug 2016
Reviewed by: Steve Bennett
Reviewed at: Assembly Roxy
Recent Reviews
What do you think?