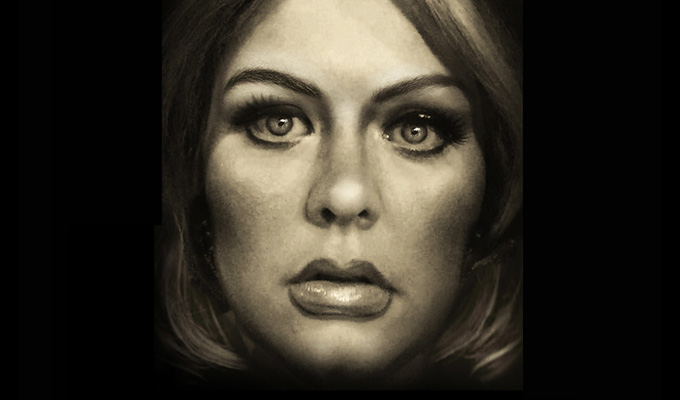 Jayde Adams: 31
Note: This review is from 2016
She's a force of nature, Jayde Adams. An 'octuple threat', she calls herself, with her stand-up, singing, dancing and five shades of barnstorming confidence.
The gig looks like it's taking place in a theatrical costumiers, with a backdrop of stage outfits her mother made her to encourage her to express herself on stage, initially through dance classes. She certainly has no reticence in doing that now, having reclaimed the sass of a drag queen, playfully intimidating her audience with blunt dominance or sexual come-on – of which more later – and never in any doubt of her fabulousness.
Her show's title is a nod to Adele, obviously, as Adams feels affinity to a fellow 'working-class, overweight woman who has been through a lot, and swears'. How working class? The comedian's mum spent 28 years working in Asda and believes in the fortune-telling power of gypsies after one foretold of a daughter who would go on to become famous. You don't need mystical prescience to think the same, just a ticket to her show. (Well, it's on the Free Fringe, but you know what I mean).
Over the course of this autobiographical hour, she relives some formative experiences, from realising how being a dickhead could make her the centre of attention when she goofed her way around 1,500m race, to losing her virginity. This is re-enacted with the very reluctant aid of a terrified audience volunteer, made to wear an anonymising mask as Adams takes the male role: spraying the room with Lynx Africa to recreate the 1990s ambiance, pulling off her Adidas popper trousers and dry-humps him on the banquette.
But there is also some depth to this ballsy cabaret pantomime, which also sees her display her vigorous disco-dancing prowess. The backstory is how she always saw herself as the underdog, comparing herself to icons such as Adele or her older sister, Jenna, neither of whom she felt she could live up to… until she realise she didn't have to.
Stories of Jenna, particularly, give 31 an emotional heft without diluting the sense of outrageous fun she powers through, guaranteeing the audience a much-needed blast of energy to invigorate this late-night slot.
Review date: 16 Aug 2016
Reviewed by: Steve Bennett
Reviewed at: PBH's Free Fringe @ Voodoo Rooms
Recent Reviews
What do you think?