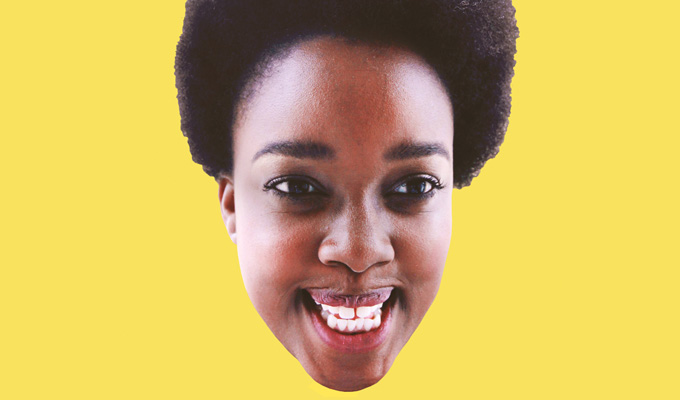 Lolly 2
Note: This review is from 2016
Ooh yes, here's a good one. If Lolly Adefope's debut last year was all about her potential, then this year she is beginning to realise it. It will cement her reputation as a highly talented comic actor, and you can expect to see her on our screens even more than she already is.
Being onstage is a different discipline to telly of course, but she has a keen sense for what is funny about each of her characters, whether they're funny in themselves, or whether she has to write her way to the good stuff. On some occasions she ditches the characters and performs a sketch as herself, speaking one half of a conversation when on a date, and when stoically tolerating an audition to be 'black Hermione' in a Harry Potter show, a nod to a real-life hoo-ha.
Race is a major topic of the show. Last year, she was accused by journalists of both mentioning her ethnicity too much, and not mentioning it enough. This show is a brilliant riposte to that very revealing bit of feedback, with Lolly bringing race front and centre to many of the sketches and exposing some egregious examples of bigotry that still exist today.
One of the real highlights is Damian Speck, who is doing a training course on how to be politically correct and not cause offence, and of course does quite the opposite. The 'black Hermione' idea is also reprised and resolved with sweet gratification. The ideas aren't especially subtle, but then what she's talking about isn't subtle either, and she does at least present them in a variety of ways and with touches of comic class.
Aside from race, she beautifully lampoons the generic, plasticky adverts for universities, and her EE call centre worker is gutturally funny and absurd. With all her creations, she has the ability to very directly locate their comic kernel and isolate that, which is half the battle won.
There was just one duff – the all-American basketball star telling his American Dream story – and the show was on the short side, which is never great for giving people the feeling they've had value for money. But what's not in doubt is the quality.
Review date: 14 Aug 2016
Reviewed by: Paul Fleckney
Reviewed at: Pleasance Courtyard
Recent Reviews
What do you think?