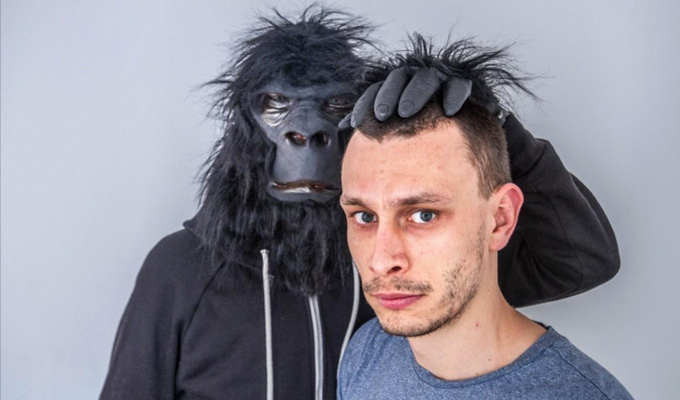 Richard Gadd: Monkey See Monkey Do
Note: This review is from 2016
Over the past few years, Richard Gadd has built up a reputation for brutally intense shows underpinned with an aggressively dark humour that revels in the squalid and depraved. He'd debase himself for his art, usually sexually, as he poked at whatever part of his disturbed id drives him to such excesses, both in life and in performance.
Well now, after this extraordinary hour of candour – disturbing, bold and visceral – we know, as Gadd lays bare the blackest demons of his psyche like no other comedian, Kim Noble excepted.
Like its physical counterpart, this emotional roller-coaster may leave you disorientated, energised, and maybe a little sick. Monkey See Monkey Do is not for the faint of heart or for those seeking easy laughs – it's a piece of progressive, deeply personal theatre presented through a comedian's prism of absurdity. And you can't imagine Michael McIntyre introducing an act on to his stage like that…
The titular monkey is what Gadd must get off his back,and is how he sees the primal ape brain that leads him to depression, whatever his more evolved cortexes might understand on a logical level. (It's the idea of sports psychologist Steve Peters's Chimp Paradox book). Gadd spends the duration of the show running from this ape… and not just metaphorically. He's literally on a treadmill, recreating the real-life runs he undertakes to keep the darkness away, but also imbuing the whole hour with a desperate energy.
His inner monologue, along with the eclectic soundtrack on his iPhone, plays out as he recreates his anxieties. Most of the show is pre-recorded, absolving him of the responsibility for telling the the difficult story, but also freeing him to get some laughs, admittedly often uncomfortable ones, from his angst-ridden facial reactions, revealing himself to be a strong physical comic though those beads of sweat
Meanwhile the screen plays out scenes involving that monkey, an unpleasant mobile phone clip that shows just how real Gadd's torment is, or, most courageously, recordings of the highly-charged psychodynamic therapy sessions he underwent to try to fix his unconscious, which is where the central revelation comes, a hard, unexpected punch.
The rawness of the story, the overwhelming experience of the multimedia presentation, and Gadd's exceptional performance mean this is a show that will stay with you, even if the comedian himself acknowledges the shortfalls of a comedy show that's 'conceptual enough not to have to be funny'.
After putting himself, and his audiences, through the wringer over this hour, and over this preceding Fringe shows, too, he even offers a glimmer of optimism at the end – not that you'd ever surmise that this was a feelgood show. It is, however, likely to be one that's the talk of the festival yet again.
Review date: 11 Aug 2016
Reviewed by: Steve Bennett
Reviewed at: Banshee Labyrinth
Recent Reviews
What do you think?