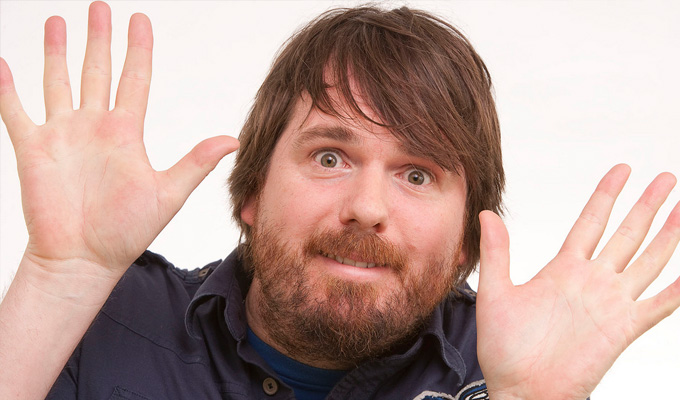 You Might Also Enjoy Pete Johansson
Note: This review is from 2016
Netflix has signed up plenty of big-name stand-ups for specials to sit on their streaming service. But, admirably, there are some non-A-listers, too, hopefully encouraging subscribers to discover more overlooked comics.
As the name of this show suggests, Canadian comic Pete Johansson falls firmly into that category, with his latest show, modestly recorded at Toomler Comedy Club in Amsterdam, freshly dropped into the catalogue. Newcomers to his work should feel instantly at home, though: as another middle-aged white male confidently sharing opinionated observations, he fits the classic stereotype of a stand-up, so everyone knows  where they stand
He does nothing to dispel cliches about Canadians, either, starting with a good ten minutes on bears – and he's a little ursine himself: big, hairy and growling out his material. But scratch a little deeper, and you'll see there's more to this comic than meets the eye. After that lengthy wildlife section, he admits that he 'love animals, but hates people', opening into a section about feral parents. It starts solid, if a little safe, before getting into more contentious territory suggesting 'a bit of social engineering' that shows a more mischievously provocative edge.
Foreshadowing some later arguments, he affects the whiney tone of an easily offended audience member protesting: 'Those words can hurt…'  'No they can't,' is his blunt rejoinder. 'They're just fucking jokes.'
The show gets deeper and more interesting as it progresses. Confessing his phobia of bees is framed in terms of showing greater vulnerability, though it's really an excuse for some venom at the stripy flying twats. And while, on paper, material about abortion, rape fantasies and abortion looks like standard fare for any would-be 'dark' comedian, British-based Johannson injects the routines with both heart and intellect, making them so much more interesting than knee-jerk bad taste.
For a start, he has a good sense of juxtaposing ideas – how many other people would mention the computer programming language Linux as he talks about watching his wife pleasure herself? The masturbation, incidentally, which he later considers 'dishonest'.
Amid the more adult content, Johansson brings up the importance of playing with concepts of offence, confessing: 'I'm fearful of society's reaction nowadays. As a comic, we can't talk openly about stuff any more because – you guys are too dumb. You are, you're  getting too dumb to talk about anything complex. We hear a word and react to it, rather than thinking about the context.'
He makes a heartfelt defence of comedy as an agent for both confronting prejudices and about tolerating different ideas – a message that goes down well in progressive Amsterdam, but it also indicative of a comic providing food for thought behind the front of blokish affability. 
• You Might Also Enjoy Pete Johansson is available on Netflix now.
Review date: 22 Jun 2016
Reviewed by: Steve Bennett
Recent Reviews
What do you think?