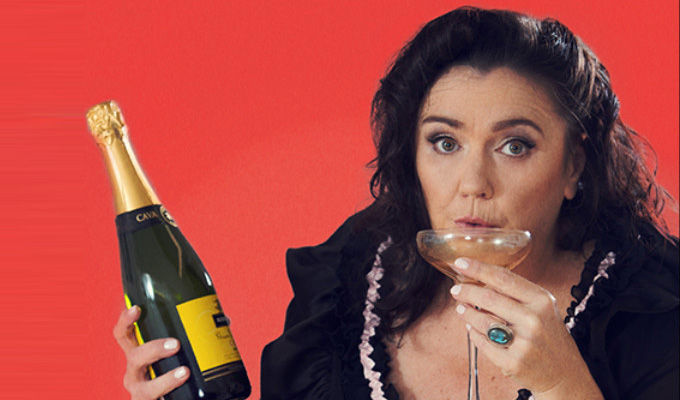 Becoming Hattie
There have been a lot of 'dead comic' plays, so it's to her credit that writer Mhairi Grealis chooses not to offer a direct biographical run-down of the life of Hattie Jacques.
Instead she tells the story of a modern-day actor called Jo, who was inspired into the profession by seeing Jacques in an episode of Sykes in the 1970s. In an era evoked by references to Arctic Roll, Jackie magazine, the Million Dollar Man and a green velour sofa at the centre of a set that bears more than a passing resemblance to 28 Sebastopol Terrace, Jo notes: 'She's like me but on the telly, telling jokes. And people are laughing with her,' the emphasis on the penultimate word revealing that for a heavy-set eight-year-old, the laughs she gets are of a crueller kind.
Fast forward to the present day and Jo is a struggling actor. She gets work on the TV, but it's always as a cleaner or a nurse. She longs for a role where she doesn't have to wear a tabard. Meanwhile, she has to take a series of menial 'job jobs' to make ends meet – exactly the same series of temporary peripheral tasks she has on screen.
How different, she imagines, from the rarefied world of Ms Jacques, hobnobbing with the stars, both on set of the Carry On films and with sophisticated showbusiness soirees at home.
Turns out, of course, that the reality was not so bewitched. Jacques's marriage to Dad's Army star John Le Mesurier hit the rocks when she had an affair; an episode that was charted in the 2011 BBC Four biopic Hattie with Ruth Jones in the title role. Then there's the drugs bust of her son, for having a single joint, which cost her an OBE.
Back in the present, Jo, laments her lot, bemoaning 'I just need better parts' – the sort of parts that directors and casting agents don't consider for plus-sized actors. Or rather 'specialist' actors, as they are euphemistically called. There are hearty laughs of recognition at lines like this from some of the more theatrical elements of this press-night audience. And when Jo gets a part in Macbeth it's far from what she expects.
In the flashback scenes, any issues Jacques has with her weight are underplayed. It is presented that she was accepted for her talents alone (it may have helped that she rose when radio was the biggest medium), but it was not that clear-cut. On It's That Man Again she was originally cast as a character called Ellie Phant.
However she is shown accepting her lot, and the limitations of the roles she'll get.'If you're large, you only get to play comedy…,' she muses If you're fat you're funny simple as that.' She hopes people in theatre might have 'more imagination' than casting the same shaped people each time, but they don't.
Grealis makes a good point, but the play rather labours it, repeating the same complaint. In a brisk hour this might be enough, but in a full-length play, you might want for more development of the point rather than reiteration.
And ultimately, tipped over the brink after receiving one of the fat-shaming card spineless, inadequate bullies handed out on the Tube, Jo cracks, railing during an audition about the injustice of it all, with white, well-educated men in their 30s making all the decisions.
Unfortunately, though, this rant – heartfelt and emotional as it is – plays up the victim card, You would hope someone inspired by Hattie might turn out more defiant than an ultimately powerless, if virtuous, diatribe against the status-quo.
Ashley Christmas excels as both Jacques, Jo and a number of supporting women (including an over-exaggerated luvvie agent), with the men being played by usually mute members of the audience. Her character may rage against the injustice of never getting a meaty part, but she's hit the jackpot here, with both the initially eager-to-please Jo who finally cracks, and the jaunty Carry On actress. Christmas takes the audience through that gamut of emotions with the sort of compelling, infectiously energetic performance you hope won't be wasted on playing Hospital Cleaner No. 3.
• Becoming Hattie is at the Leicester Square Theatre until Saturday.
Review date: 26 May 2016
Reviewed by: Steve Bennett
Reviewed at: Leicester Square Theatre
What do you think?