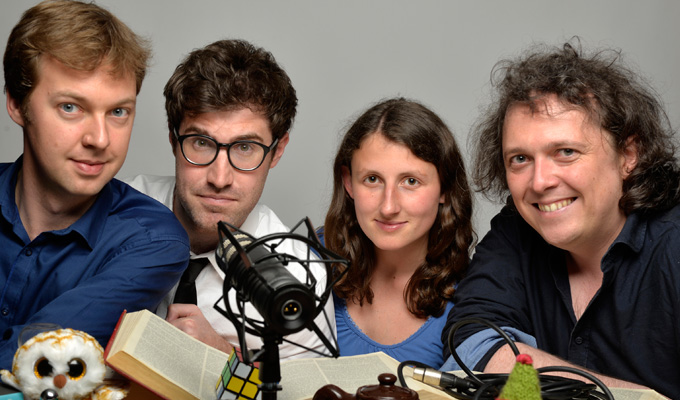 No Such Thing As The News
There's no such thing as a dull moment in BBC Two's new topical comedy No Such Thing As The News – a look behind the headlines presented by the 'elves' who research QI.
It has, of course, long been a successful podcast,  No Such Thing As A Fish, attracting 700,000 subscribers over its 114 episodes and winning a couple of Chortle awards.
Such numbers obviously suggest to commissioners that there's an audience for this sort of thing – although interestingly, the show has been commissioned by the BBC's news department, rather than the comedy one, suggesting a different route to screen for programme-makers.
In their transfer to telly, James Harkin, Andrew Hunter Murray, Anna Ptaszynski and Dan Schreiber have not fiddled with a winning formula – not even the theme tune (Wasps, by Emperor Yes) or logo. The four of them sit behind a black desk in Up The Creek comedy club in Greenwich, South London, with hefty microphones in front of them. Their budget is clearly not breaking the BBC bank.
Executive produced by comedy maestro John Lloyd, the format is just four curious people – that's curious as in inquiring, not as in strange – reporting back on the quite interesting things they've read about, the only difference from usual is that because of its billing, all the facts are culled from the week's news. 
Each nugget of information spawns all manner of associated facts. First up in the week of the Queen's Speech, was the fact that  Parliament has special security measures to stop the gunpowder plot from ever happening again – with yeomen rather ill-advisedly checking for gunpowder with candle lanterns. 
This led to stories about the Canadian MP who tabled a motion banning rounds of applause in their chamber. Her bid failed… and she got a round of applause when it did. And a discussion about brawls in Ukrainian parliament led to a small concession to the TV format, with some footage of one of the incidents.
Of course, the discussions lead down odd routes too, both amusing and peculiar and often penis-related, from the dangers of masturbating on the International Space Station, to shelves full of urine, magnets wrapped in pig intestines – many of which get jokey addenda, from a naturally witty team.
As well as the quartet's contributions, weird stories were contributed by fans: such as the outrage that a real person called Sweet Orifice did not win a name of the year competition, and that in Australia a man who got his penis trapped in a spanner. We can only assume he was trying to tighten his nuts.
If you're a curious person too, your interest will definitely be piqued by the info imparted (now my internet search history includes 'didgeridoo in space' and 'sticky google car') and in a most entertaining way. Though quite what the weird handover to Jane Hill in the BBC newsroom just to call Schrieber 'Bernard' was all about defies explaination.
• No Such Thing As The News is on BBC Two at 11.05pm on Fridays and is available on iPlayer here. Subscribe to the podcast here.
Review date: 20 May 2016
Reviewed by: Steve Bennett
Recent Reviews
What do you think?