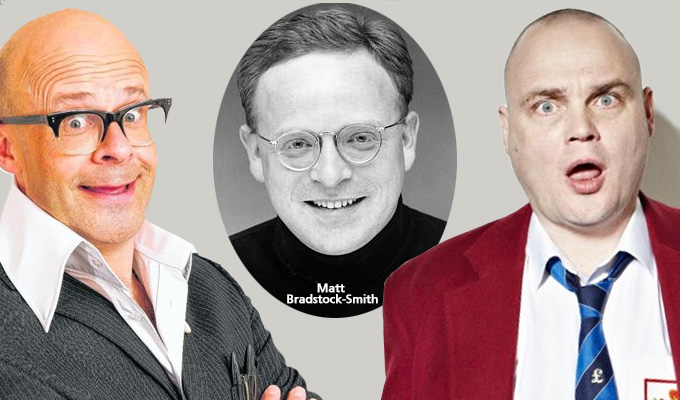 For Little Alan
Party like it's 1994! The boys in the Pub Band are back together – and exploding into silliness.
With Harry Hill as its rubber-legged frontman and Al Murray as its Animalistic drummer, this was the 'deliberately ropey' outfit put together for their Perrier-nominated show, Pub Internationale, back for one night only.
The reason for their reunion was poignant, a tribute to their friend Matt Bradstock-Smith – who played Little Alan on Hill's Channel 4 series – and a fundraiser for the hospice which looked after him before he died at the beginning of the year. Hill momentarily acknowledged the tragedy of a life extinguished too early, but the tone of last night's West End show was otherwise joyously celebratory.
The pair very obviously revel in recapturing the youthful vigour and full-throttle fun of their early partnership.Their ribald set that concluded the night started with Blur's Boys And Girls in a cheesy pub style with Hill, resplendent in powder blue teddy boy jacket and quiff wig, breaking out for a brief solo on spoons.
It's a karaoke session gone ridiculously out of control as they launch into their Madonna medley, mashing up Material Girl with some wartime morale-boosters – surely even the grande dame of pop isn't *that* old. And on to Yesterday, which Hill, in a brilliantly unexpected flash of fury, gives a punk twist, smashing up the stage with an extravagant slapstick anger that's nothing short of hilarious.
Then Tim Vine – who'd previously delivered a typically, timelessly stupid set of snappy puns, daft songs and the wonderfully preposterous game of 'pen behind the ear' – joined in the fun by transforming into Plastic Elvis, gyrating and quivering, and keeping Murray on his toes to match the allegedly sexy spasms. The rest of the band enjoyed being upstaged as much as the audience did watching it.
Ending with their particular take on Bohemian Rhapsody – bar the bit Hill decided to remove at the last minute for being 'too difficult' – the band provided a fitting finale to an often knockabout night, that caroused in the sort of enjoyably loose performance that only a 20-plus-year friendship between the two main stars could indulge.
Such was the 'seat-of-the-pants' feel that Hill that he forgot his usual boots, and performed in trainers for the first time ever. Hosting the first half, he delighted in the sloppiness, and the spectacle of a 52-year-old former doctor indulging in such ridiculous horseplay. 'We're getting some old ones out tonight!', he gleefully exclaimed as he dusted down some of the silly wordplay, non sequiturs and physical jerks with which he started his career, mixed with some of the newer material – Morecambe and Wise promoting Nazism, for brilliant example.
Even at the very start the wide-collared loon was wrestled to the ground by a stooge from the audience – a gag that seemed to cause a bit of a consternation among the ushers, fearing a genuine stage invasion.
Another blast from the past came with the night's first guest 'Page Three Stunna' Gayle Tuesday, brought out of retirement. Brenda Gilhooly's dim-witted character is very much of her time as she would surely be a TOWIE girl these days, and many of the more generic jokes, delivered in a grating Essex screech, were past their time, too. An act perhaps of primarily nostalgic interest.
Stewart Lee had to pull out of the show at the last minute, but no one could be disappointed with his stand-in, Sean Lock, another of Hill's old muckers. He applied his dry whimsy to topics both frivolous and serious, starting by cheekily provoking chemists for having easy jobs but moving on to tough subjects such as immigration – as well as getting genuinely passionate about the evil of Swiss bankers – but with offbeat ideas keeping it (mostly) light.
'How do you follow Sean Lock?,' Hill asked. 'With a blue plastic cat!' Yet Stouffer, inexplicably but undeniably popular, helped round out the first section.
Murray hosted the second, with his usual blend of A-grade banter and preposterous posturing. Where some are accused of dog-whistle politics, the Pub Landlord gets almost as shrill in his high-pitched iridescent fury about how modern politics is a joke – although though a far-fetched Farage theory proved a convoluted indulgence too far.
He had great sport with the line-up of advertising executives, estate agents and HR staff who could afford the front row seats, of course, and as an appetiser for the band to come, served up a rendition of Under Pressure with a duet partner brought up from the audience, whom such a proud bully could never allow to shine.
A huge success then – and for St Wilfrid's Hospice in Chichester, too. 'Good news!' Hill trumpeted. 'We've raised enough money to buy the hospice… and we're going to turn it into a Wetherspoon's!' He may have got the wrong end of the stick, but as long as the Pub Band get a residency, who cares?
Review date: 17 May 2016
Reviewed by: Steve Bennett
Recent Reviews
What do you think?