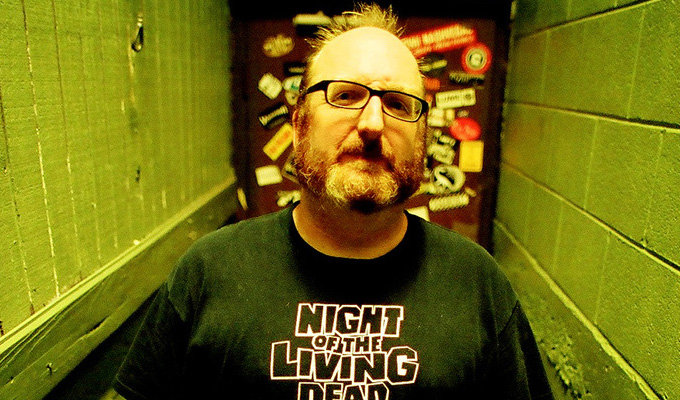 Brian Posehn
He's probably one of the more internationally recognisable faces at the Melbourne comedy festival, thanks to The Sarah Silverman Show, Reno 911 and Mr Show. But Brian Posehn is performing here just for one night, and in a suburban music venue far from the event's city centre hub.
It suits him, too, this more grungy environment, more people standing than sitting; it's certainly a better fit than some well-appointed theatre. He's an avowed metalhead, an overgrown teenager who'd probably be watching a band here, were he not on stage himself.
Pushing 50, he's still doing material about musicians you may or may not have heard of, including his tale recalling a vicious roast of Slipknot that went wrong. Who would have thought they would have been so thin-skinned? If you don't know the band members he's talking about, the impact is dulled, though the routine does still work.
The music obsession is just one reflection of his nerdy personality, which has an authenticity any late-adopter hipster can never hope to acquire. Talking of which, he skewers that much put-upon subculture with a devastating accuracy. 
Posehn's geeky obsessions put spice into some routines. His take on the hits and misses of the Star Wars franchise, for example, comes with real passion, because it's personal - George Lucas's betrayal is what leads him into the awful analogy he makes, one of the appealing flecks of darkness in his stories.. 
The arrested development in his cultural tastes is reflected in his family life too. He may be pushing 50, in a 16-year relationship and the father of a young son, but the  immature streak is undimmed. In fact, he gets to indulge it while Wrestling with his son – in Spider-man masks, of course. And some of the strongest, edgiest stories in his hour come from his marriage. He's certainly got one of the best 'caught jerking off' tales in the business, and that's a crowded category.
Another strong routine has him shoehorning 'faggot' and 'retard' into his set frequently, but (relatively) inoffensively, as he offers a playful schoolyard takedown of Kid Rock's complaints that political correctness has robbed him of his favourite words. He jokes that Kid Rock might not be at the forefront of relevance any more, but it's worth evoking his gripes for this classic slam.
Some of Posehn's stories are more everyday, for sure, but there are certainly enough A-grade routines here to be worth the trip.
Review date: 18 Apr 2016
Reviewed by: Steve Bennett
Recent Reviews
What do you think?