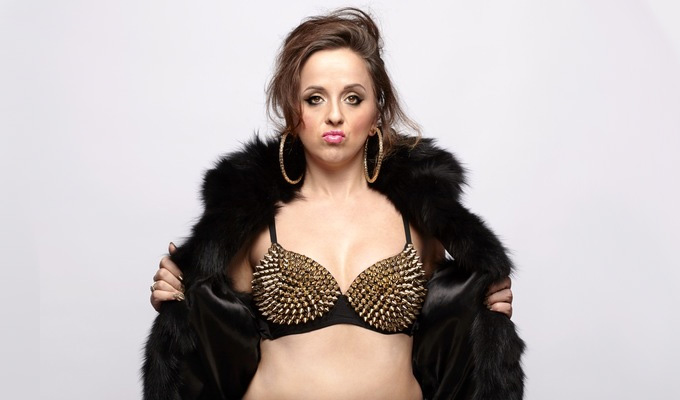 Luisa Omielan: Am I Right Ladies?!
Note: This review is from 2016
'Empowering' is the unavoidable word when discussing Luisa Omielan. After 32 years of society's body-shaming, slut-shaming and mental-health-shaming, she's come out fighting. Well not fighting so much as singing and dancing – a powerful one-woman female pride movement.
It's certainly worked out well for her, with Am I Right Ladies?! picking up a Barry Award nomination in Melbourne, almost two years after its Edinburgh premiere. She's able to fill out medium-sized venues in the UK – but after the adulation of hundreds, she has to face the lonely bus journey home. All she wants is a man, and if the feminists she champions don't like that… well, isn't it unfeminist to tell other women what they should and shouldn't want?
So she tells of no-strings-attached sex, preaching its restorative properties, unabashed in her frankness and making one-night stands a feminist issue… She is surely the Emmeline Pankhurst of dick jokes.
There's a return to the subject of body image – at this festival last year, a televised gala routine about the 'thigh gap' went viral, so not only is it a vital message, it's what the fans want. Basically, she's got 99 problems, but her curves ain't one, just the trophy of a life well lived.
Talking of problems, Omielan opens up about her mental health issues – wondering why she's bombarded with messages about what she should look like, but not that depressive thoughts are perfectly normal and treatable. Whether the media ideal and her darker feelings are linked is an avenue down which she doesn't go.
As she barrels through life an inner monologue, with the exaggerated accent of a demure Southern belle, plays out the arguments between doing what she wants and what traditional society might expect. No prize for guessing which voice wins out in the end.
In the show's second half, the message starts to overwhelm the comedy a bit. Not to fat-shame about her routines, but some could be tightened, and the 70ish-minute show would probably benefit from getting closer to the traditional festival hour. But there's no mistaking that the subjects are important to her.
If she indulges a bit, she's earned the right after a powerful opening section: a relentless, full-on blast of invigorating energy which transmits her evangelical passion through her impressive cult of personality alone. So powerful is her conviction that she might even persuade you than spending £6,000 on a bottle of vodka is an aspirational aim, rather than obscene opulence, as you get caught up her 'carpe diem' zeal.
The joyous vibe steps up another notch in the Dirty Dancing-inspired finale, sending the crowd out with a smile on their face and a sense of defiant purpose in their heart. You go girls.
Review date: 17 Apr 2016
Reviewed by: Steve Bennett
Reviewed at: Melbourne International Comedy Festival
Recent Reviews
What do you think?