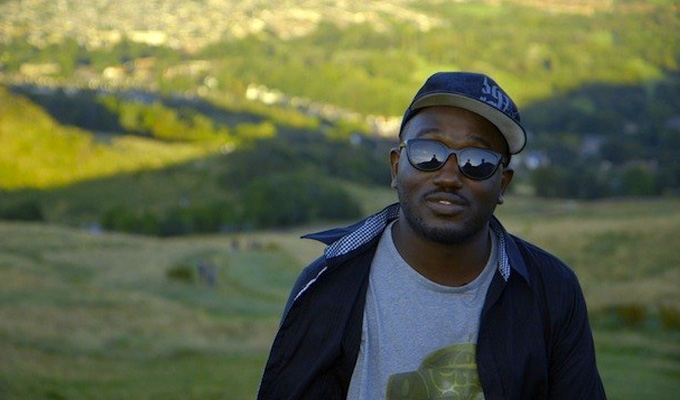 Hannibal Takes Edinburgh
Note: This review is from 2016
Can you capture all the emotional highs and lows of performing for a month at the world's biggest arts festival in one 80-minute film? Of course not, especially since Hannibal Takes Edinburgh is as much stand-up concert movie as it is documentary.
However the film, released on Netflix today, does capture an essence of Hannibal Buress's fairly typical experience at the 2012 Edinburgh Fringe. He's not a struggling act at this stage, although  no means the draw he is now. But  it does at least mean that not every day is a desperate battle to sell tickets, not every show a trial-by-fire for an inexperienced newbie.
Still, he knows his motivation. He's going because you get better as a comedian playing 28 back-to-back dates of the same show in the same room. Of course, that repeated discipline would come to be  a bugbear too, a challenge that has to be overcome if he's to achieve his aim.
The first thing we learn about Buress is what a dump he lived in. His every possession is strewn around his American apartment, making it look like the sort of place a body could remain undiscovered for weeks.
But after labouring up several flights of stairs to his Fringe accommodation, he's unimpressed with his new digs, too, prompting a stream of disbelieving 'what the fuck kinda...'s, kicking off the many grumbles about the festival experience.
When he's on stage at the Pleasance Above, all seems fine, and we get to hear the first of his stand-up routines. The days whizz past, and before we know it he's a week in, and the most memorable thing that's happened is that he's discovered he's on a sneezing fetish website.
But then the 'Groundhog Day' effect starts to kick in as he  gets stuck into a too-familiar pattern doing the same things day-in, day-out. His routine is only varied by the odd extra gig, which is not always an edifying experience.
We see him performing to fewer than two dozen people in a corner of a casino, separated from the gamblers only by a flimsy curtain, or battling the audience and Late N Live, getting frustrated that the audience's partisan booing of every mention if England is stopping him doing his job.
Cue sad classical music on the soundtrack and long shots of him looking isolated. 'Why can't I go home?' he muses. And yes, he does go up Arthur's Seat at one point, it'd be a lax director who let that cinematic view go unshot.
Then, finally, something clicks. He starts to see other acts – so we get bonus performance footage of Edde Pepitone impersonating a mentally unstable lounge singer, and Sammy J and Randy trading their banter. The Australian festival stalwarts tell him how they start mixing up their set to keep it fresh, especially in the third week slump, and Buress takes the advice to heart.
We see him engage in some funny crowd work – including running into a punter he's previously slept with, by the look of it – and taking on the challenge of Set List, where he's forced to improvise routines about a 'slightly erotic sermon' and 'unicorn inner monologue', to great effect.
There are plenty of other strong stand-up sections, too, often about the life of a comic on the road – a specially highlight is him telling how he became irrationally defensive about respecting the art of comedy when a woman offers to show her tits if he tells her a joke. There's religion as well as sex, with a take on what Jesus could have done differently, in keeping with Buress's sardonic shtick of always having the cool response to every occasion – well, in the retrospective setting of a stand-up gig when he can own his awkwardness, at least.
As concert footage alone, Hannibal Takes Edinburgh would be an entertaining watch, but his love-hate relationship with the festival gives the film an edge over a straightforward stand-up special.
And for regular Fringe-goes, it's always good to see Edinburgh at its best on film, as well as seeing Buress interact with the huge population of comedians who have descended there from  Trevor Noah to Matt Kirshen; Nicholas Parsons to Stuart Goldsmith, to whom he reveals his difficulties in getting a penguin-eating routine to work during an interview for the Comedian's Comedian podcast.
Towards the end, he tells an audience: 'People think I hate it here – because I say that I hate it here.' Like many comedians, he's got a more complicated relationship with the event than that; and director Ryan Ferguson explores that ambiguity nicely.
Review date: 8 Apr 2016
Reviewed by: Steve Bennett
Recent Reviews
What do you think?