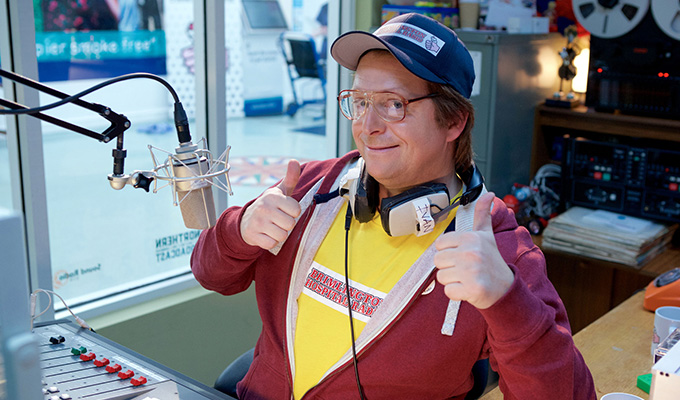 Hosptial People
Have they learned nothing? BBC One are giving airtime to another dodgy, oddly-dressed DJ who likes to hang around hospitals…
After years entertaining Edinburgh crowds and comedy club audiences, inept hospital radio presenter Ivan Brackenbury takes prime billing in Hospital People, the first in a brief run of pilots for the flagship channel.
A more naive, simple-minded version of Alan Partridge, without the self-importance; a Smashy and Nicey without the fame; Brackenbury is certainly the sort of big character BBC likes to build its mainstream sitcoms around. So hopefully Hospital People shouldn't come a cropper like The Kennedys this week for being a more nuanced comedy-drama.
He has proper jokes, too, though he's often too dim to realise he's making them, welcoming the prospect of competition via bedside media devices because he wants to be 'challenged mentally'. His trainee producer sidekick, Shaz (Mandeep Dhillon) offers nice counterpart; far sharper but forced to play second fiddle. It's she who has to tell him when he's being the victim of medical students' prank requests, allowing him to translate the inappropriate dedications from his stage act to the screen: A Good Heart Is Hard To Find for a cardiac transplant patient, for example
Another of Binn's characters, Ian D Montfort, gets repurposed too. Live, he brilliantly uses the cold reading techniques of charlatan 'psychics' to expose their trickery; but here is is a porter, obsessed with alternative healing techniques and a self-anointed 'psychic healer'… a new role but still enabling him to poke fun at mumbo-jumbo.
While hospitals have been a rich source of comedies, from Carry On Matron to Green Wing, Only When I Laugh to Scrubs, this one is different in that it focusses not on the medical staff, but on the support workers. And most of them see patients as an irritant stopping them from their true calling.
Binns' new creations include Susan Mitchell, a cold beancounter put on this earth to monetise every square inch of Brimlington hospital in a 'root and branch reform'. She's a little one-note, but the provider of the necessary jeopardy, and, like Brackenbury, prone to delivering a crude double entendre entirely straight, too unselfaware to realise.
Then there's Terry, the hospital chaplain convinced he's really a comedian (he's Scouse, of course), which nicely parodies the wannabe culture, and hypochondriac Terry Boyle, almost the only patient we meet, treating the hospital like a cruise ship.
Hospital People has plenty of nice lines, although it falls between a sketch show and a sitcom, not quite having enough plot to justify the latter, beyond the general threat of creeping commercial interests. That's a timely theme, but having a more specific plot would certainly benefit Hospital People were it picked up for a series. Here's hoping, for the deadpanned innuendos could fill a big slot.
• Hospital People is on BBC One at 10.35pm tonight (except Northern Ireland, when it's on at 11.05pm).
Review date: 26 Feb 2016
Reviewed by: Steve Bennett
Recent Reviews
What do you think?