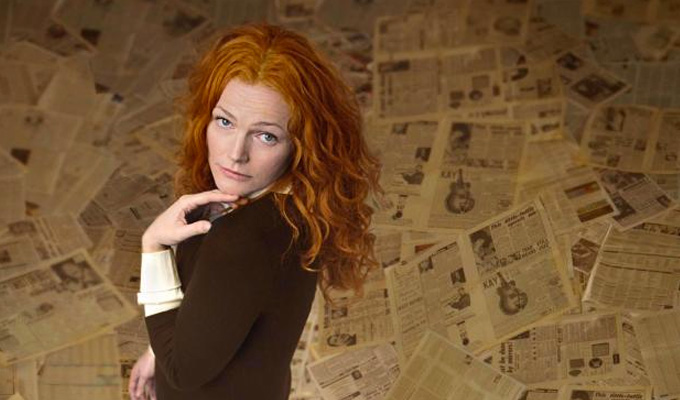 Comic Strip Presents... Red Top
Collusions between the top echelons of media and politics exposed by the phone-hacking scandal prove a treasure trove of inspiration for Comic Strip guru Peter Richardson.
The real-life shenanigans that caught Rupert Murdoch, David Cameron and Tony Blair in their wider orbit might have stretched the credibility of any drama writer who might have imagined them – but for this super-heightened comic version of events, it is only the start.
Set in the 1970s, the crazy film tells the story of 'red-top' Rebekah Brooks, a wide-eyed ingénue who skips into Wapping to launch a reign of terror at News International. 'In a world of shattered dreams, a young woman so vulnerable and so misunderstood is swept into a whirlpool of lies and betrayal,' she muses, disingenuously, from her storm-lashed mansion.
Maxine Peake – whose experience building up to the role has included playing  Moors murderer Myra Hindley – partly channels Miranda Richardson's Blackadder Queenie to play the chief executive as a faux naif, childishly impetuous and utterly, manipulatively ruthless. Or rather she's a combination of that and Heather Graham's Rollergirl character from Boogie Nights because… well, why not put her on skates?
The whole film is a series of such peculiar scenes, as if political cartoons were made flesh, loosely held together by plot. The surreal characterisations retain the essence of the original, but mock them wonderfully: Tony Blair as a hippy rocker with Frank Zappa moustache is a perfect case in point as Stephen Mangan reinvents the Prime Minister he played in the Comic Strip's 2011 outing, the noirish Hunt for Tony Blair.
Similarly, the image of David and Sam Cameron dancing awkwardly and alone to win the approval of Murdoch – a Bond villain turned pathetic old man in Nigel Planer's rendition – will stick in the mind; and Lewis MacLeod's portrayal of Guardian editor Alan Rusbridger as an aloof cravat-wearing intellectual poseur is magnificent.
As ever, the Comic Strip has attracted the cream of British comedy talent. Johnny Vegas brings all his drunken shambolism to the fore as a sleazy Sun reporter Johnny Bristol; Harry Enfield rages as an 'Oi! Brooks! No!' version of Ross Kemp; while Alexei Sayle has a nice cameo as a put-upon political editor.
Russell Tovey, who plays Sun editor,turned No 10 spin doctor Andy Coulson, has less to do, despite his implication in all the nefarious activities; while  Eleanor Matsuura's Wendy Deng is little more than an outdated 'me so solly' Oriental stereotype in Kill Bill jumpsuit.
Maybe the borderline racism (only belatedly acknowledged in the script) is explained by the 1970s setting, so loosely adhered to that Coulson has real controversial Sun front pages about the Falklands and Hillsborough on his office wall; while a pre-roll quote from Carl Bernstein suggests Richardson wants to draw parallels with Watergate. 
But, you suspect the main reason for the period is because it's fun and silly, allowing the cast to camp it up as much as they like, while skewering the great and the good. And that's pretty much the excuse for every scene in this odd fantasy, which proves one of the more 'on form' episodes in the Comic Strip's long, if sometimes variable, catalogue.
Comic Strip Presents... Red Top premieres on Gold at 10pm tonight.
Review date: 20 Jan 2016
Reviewed by: Steve Bennett
Recent Reviews
What do you think?