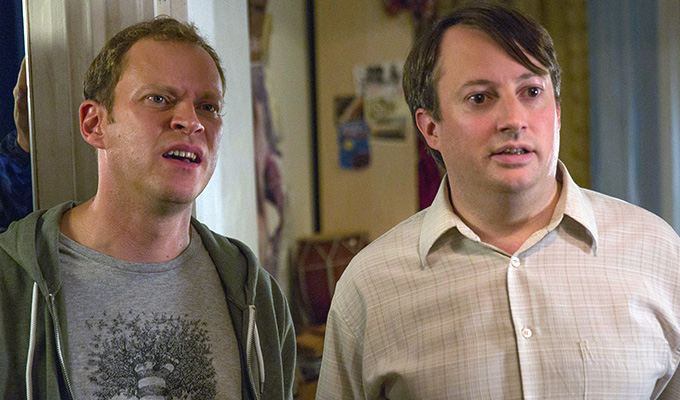 Peep Show final episode
Note: This review is from 2015
So, after 13 years Mark and Jez are back where they started, single, jobless and stuck in the same flat, bound in a reluctant codependency because they have run out of options.
Had we not known otherwise, it would have been hard to identify this as the very last episode – except of course for the talent the writers and stars have developed overt to produce such a strong show, so confident in its strengths not to need to bow out in a cacophony of bells and whistles.
Mark's final thought: 'I simply must get rid of him,' almost seems to hold open the door for more misadventures; although the El Dude Brothers' future must be increasingly bleak as anchorless middle-aged men, still flat-sharing.
Their final conversation says so much about their characters, too, as they discussed how they would probably end up killing each other; Jez with a sub-John McCain cool wisecrack, Mark holding a pillow over his flatmate's face as if dispatching an elderly relative who's become a burden.
Writers Sam Bain and Jesse Armstrong have certainly taken Seinfeld's famous 'no hugging, no learning' coda to heart. Although on his 40th birthday, recovering from a three-day drugs and sex binge, Jez has slowly come to realise one thing: that his party days might be behind him. 'I'm never going to be young, dumb and full of cum ever again,' he laments.
His milestone anniversary is celebrated – and that's not the right word - with a collection of people who hate him. This coming of age, too, is not the climactic game-changer more sentimental writers might have gone to, as it just underlines the isolation.
Jez might think of his host organism Mark 'We do love each other really,' but they don't. And Mark might have professed his love for the sweet April in a last roll of the dice bid to get the girl, almost sweet in his desperation. But the course of true love never runs smooth – so what hope for the misplaced 'love' these two experience.
The point-of-view filming and inside-the-head voiceovers that first distinguished Peep Show – before the brilliance of the whole idea became apparent – allows a, well, peep into two aspects of the human psyche that everyone has: the crippling self-doubt of Mark trying to balance the superficial cool of Jeremy.
It means the comedy is so much richer than the gross-out moments that they do so well, too – this episode's awfulness largely concentrated on Jez's desperate attempts to hold on to his youth by drinking his own urine, 'the original vaccine, the watery battery, the mellow yellow…' That and a major felony.
But for all their explots, Mark and Jez don't moved on. Even Superhans – or Simon as we should maybe come to call him – has another adventure on the horizon. After his series-long marriage to Molly falls apart ('apparently I'm not even allowed to do a naughty kidnap'), he skips off to Macedonian to start a moped rental, just another chapter. But our anti-heroes don't have that sort of ambition.
'Are we going to be all right?' Jez asks in the final scene. Probably not.
But as we leave them to their fate, we don't need closure, as the 54 half-hours of their appalling self-serving behaviour will long be a part of the rerun, catch-up TV landscape.
• David Mitchell and Robert Webb on the last series of Peep Show.
Review date: 17 Dec 2015
Reviewed by: Steve Bennett
Recent Reviews
What do you think?