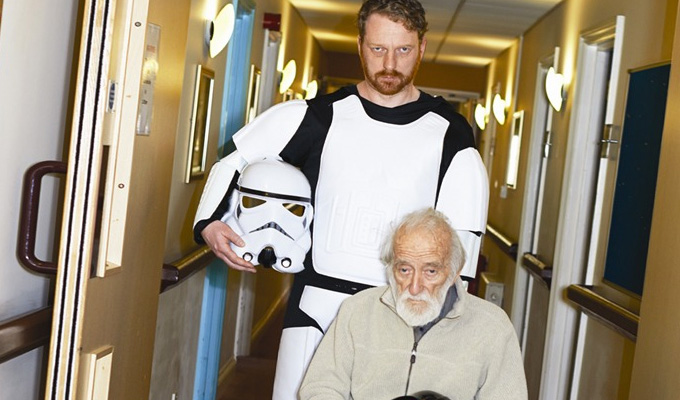 Kim Noble: You're Not Alone
Note: This review is from 2015
It's hard to overstate how challenging Kim Noble's shows can be. 'That was harrowing,' one audience member was overheard saying after this intense hour, burrowing deep into his warped psyche.
Underpinning You're Not Alone is a sobering reflection on loneliness and mortality. With his father's ailing health, the realisation that we all live alone and die alone clearly haunts the disturbed Noble. But he's got a funny way of thinking about it – funny peculiar more than funny ha-ha – to say the least.
He presents to us a series of morally dubious stunts that lie between stalking and grooming. He secretly videos his neighbours and shop workers, and seeks out those who want sordid sexual thrills. He posing as a woman to bait them online and, when he's earned their confidence, in reality.
There is, however, some heart to his actions, however misguided. He presents himself as a tragic, obsessive figure, an abject misfit seeking connections where he can find them. His motivation is that those he encounters are similarly seeking some sort of companionship, though the evidence that his interventions are welcome is scant.
He certainly commits to his whims. After being rejected for a job at B&Q he started working there anyway, spending months 'helping out', just for the joke of it. And that is one of his more sane adventures. This isn't just comedy as performance art, but his entire life.
While comedy is often called an 'art form', Noble is one of its few true artists, committed to exposing every emotion, no matter how unedifying and confronting. His actions will haunt you, even second hand.
You're Not Alone, like his whole life, is a work continually in progress, too. Now back in the Soho Theatre for a second stint, it has evolved since its short initial run at the 2014 Edinburgh Fringe. And by immersing the whole audience in his grim experience, in some cases far deeper than most would be happy with, he seeks more stories; or more precisely more glimmers of hope amid the bleakness.
Whether this is amusing is a harder question to answer. There are certainly nervous laughs at the excesses of his behaviour, and his exposure of just how base humans can be behind our masks of civility – himself most definitely included – is the basis of even the most childish fart gag. Noble is just taking to extremes.
But there's also a pungent social satire in the topics he brings up that could put him in the same bracket as Chris Morris. He confronting things we don't want to talk about, whether that's the decay and solitude of later life – or a truck driver wanking on the M6. Such topics may superficially shock, but Noble presents them as part of the grubby tapestry of human existence.
Michael McIntyre's Comedy Roadshow it most certainly isn't…
• Kim Noble: You're Not Alone is at the Soho Theatre until Saturday January 9.
Review date: 11 Dec 2015
Reviewed by: Steve Bennett
Reviewed at: Soho Theatre
Recent Reviews
What do you think?