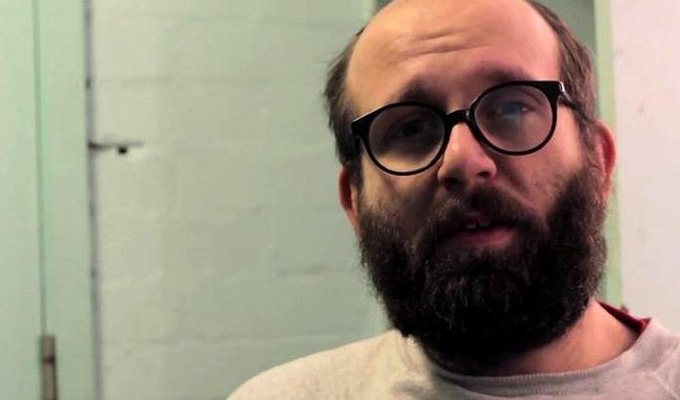 Stories For The Starlit Sky: Daniel Kitson and Gavin Osborn
Note: This review is from 2015
'It's value for money,' Daniel Kitson tells the audience in the preamble to Stories for the Starlit Sky trilogy. 'Don't dwell on the quality…' Despite the rare note of self-deprecation, he's right to flag up the length. To use the official SI unit of comedy show durations, this epic comes in at about 0.85 Dodds; starting at 7pm and finishing at 11pm. There are a notable number of audience dropouts after the second interval as inexorable thoughts of tomorrow's work encroaches on the romanticised storytelling.
This trilogy was originally written to be performed over three consecutive nights at Regent's Park Open Air Theatre in London. I'd previously seen a performance at the Latitude festival in 2010, but despite the magical promise held by a midnight, lakeside session, the noise bleed from the cheesy nightclub tents; noisy, milling crowds and chilly weather actually made it a less than ideal environment for Kitson's quiet romanticism. Manchester's Dancehouse theatre is much more conducive for his transport of delights.
The three stories are loosely linked via some of the characters, as it's revealed in satisfying callbacks in the final tale, and take place overnight; which Kitson vividly imagines as an exciting playground alive with infinite opportunities, topped by the secret magic of first light cracking the darkness.
Two of the tales rest on improbable fantasy, with an almost filmic feel – the first a story-within-a-story of a village full of retired assassins, told by a dad trying to get his son to sleep; the third about the night-shift duo woking on the a vast card index system recording every small moment of romance in the world. If this were Charlie Brooker's story this would be a sinister, faceless NSA-syle data harvesting centre; but as it's Kitson's it's a place of playful high jinks and unrequited love.
The second is a tale of romantic obsession-stroke-borderline psychotic stalking, with a man driving through the night in impulsive, and 'problematically weird', pursuit of a woman who caught his eye. Of course, in this world the more magical, if less credible, option wins out.
In the first story, the smartarse kid points out the tropes his dad falls into, over-reliance on alliteration, sentimentalism, a starry-eyed view of meticulous bureaucracy… Kitson perhaps giving his internal critic a voice. 'Stories can't just end, the need a satisfying epilogue!' he protests, precociously.
Though, of course, there's nothing really to criticise in Kitson's lyrical writing, delighting in its elevation of the most mundane detail and expanding any quirk of human behaviour to the most noble of endeavours. Anything that breaks normality, that cardinal sin, is to be celebrated.
Plus, of course, the prose is rich with his witty turns of phrase. 'Let that be my legacy,' Kitson says, coming briefly out of the story to say how pleased he was with himself for coining the phrase: 'It's hot chocolate o'clockolate'
However the tales, read from well-thumbed notebooks, are more about imagination than laughs. These come much more freely in the fluid back-and-forth between Kitson, his accompanist Gavin Osborn and the audience before, and sometimes during, the yarns. It's a reminder of how great and instinctive comedian Kitson is; even if some of those talents are parked for the evening.
His collaboration with singer-songwriter Osborn stretches back to 2004 when Kitson, racked with guilt from breaking the musician's finger during a football match, invited him on tour. But it is a perfect match, and they are both relaxed and playful in each other's company. Here Osborn provides chapter breaks for the stories, not always related to the main narrative, but stylistically, he's Kitson's brother in art. The sweet, quirky ballads revolve around such topics as the middle-aged friends who bond by pretending to be cops on a stakeout.
Very Kitsonesque; firmly cementing the comedian's blocks of tender, compassionate and stylish storytelling.
• Daniel Kitson and Gavin Osborn: Stories for the Starlit Sky is on tour until November 14. Dates.
Review date: 21 Oct 2015
Reviewed by: Steve Bennett
Reviewed at: Manchester Dancehouse
Recent Reviews
What do you think?