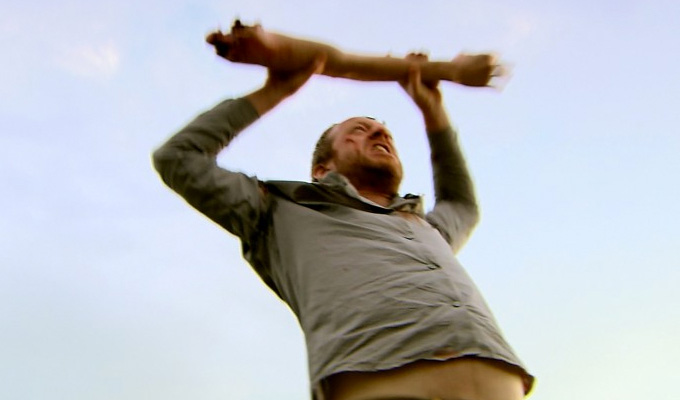 Aaaaaaaah!
Note: This review is from 2015
In his directorial debut, Sightseers star Steve Oram delivers a remarkable film that satirises human behaviour with apeshit craziness.
Set in a superficially recognisable South London of semi-detached houses, football pitches and fashionable clothing boutiques, Aaaaaaaah! nevertheless offers an alternate reality that entirely eschews dialogue for primal grunts and gesticulations, with civilisation repeatedly shown to be a thin veneer over simian wildness.
Aaaaaaaah! features some dark and comically extreme sequences, but it's not too aloof in its arthouse outlook. Plotwise, it's essentially Romeo and Juliet.
Starkly shot like a nature documentary without narration, Oram is Smith, a confident alpha male whom we first meet in woodland, mourning the loss of his mate in the company of his beta, Keith, played by Oram's regular double-act partner Tom Meeten. Establishing a pattern for much of what follows, they enact a solemn ritual of remembrance with explicit, animal filthiness in a scene that's bathetically hilarious.
Marauding into the city, the pair invade the patch of Ryan (Julian Rhind-Tutt), a dominant male. A blokeish brute who lords it over Barbara (Toyah Wilcox) and her offspring, the shifty male Og (Sean Reynard) and unimpressed Denise (Lucy Honigman). Their previous, deposed patriarch, Jupiter (Julian Barratt) has been banished to a pitiful and lonely corner of the garden. Presenting to Denise at Ryan's orgiastic house party, Smith instigates a feud that can only end in bloodshed.
Struggling to install new televisions, swigging alcohol in the park and shoplifting, the characters are recognisably human and yet not, urinating on fridges to mark their territory. Might is right, allegiances perpetually shift for personal advantage and life is cheap, with an ever-present threat of violence. Ugly confrontations are followed by loving bonding; keening sorrow by survival-of-the-fittest pragmatism. The film ultimately resolves with black humour that's both satisfying on a level of primal logic and yet recognisably, tragically human.
There are many beautifully observed moments, such as the perfunctory nature of the key, transgressive act of lovemaking between Smith and Denise. And far from simply being an exercise in pretentiousness, the grunts and body language of the protagonists prove to be wonderfully expressive, delivered by a uniformly excellent cast.
Keith's deference to the assured Smith is carefully established with nuance, whereas the latter's animal lust with Denise is blatant and instant. Barratt conveys so much as the sad-eyed outcast, roaming naked through the woods of his disturbed, cuckolded imagination. Yet the standout turn is Wilcox, showcasing an impressive emotional range that sees her meekly subservient, slyly calculating or baring her teeth with hissing ferocity.
Noel Fielding completes a Mighty Boosh reunion as a pervy shop owner in a memorable scene that finds he and Waen Shepherd getting their comeuppance from Denise and her friend Helen (Derek's Holli Dempsey). Oram's Sightseers co-star Alice Lowe and Tony Way pop up as they frenziedly caper and gurn their way through a sitcom-within-the-film. And Martin Soan is typically eye-catching as a singer at the party.
Bold and engagingly eccentric, Oram's vision keeps the anthropomorphic exploration interesting but secondary to the laughs and unsettling mood, with a cracking, 1970s dystopia-evoking soundtrack from King Crimson reinforcing the underlying sense of menace.
• Aaaaaaaah! is in cinemas now.
Review date: 16 Oct 2015
Reviewed by: Steve Bennett
Recent Reviews
What do you think?