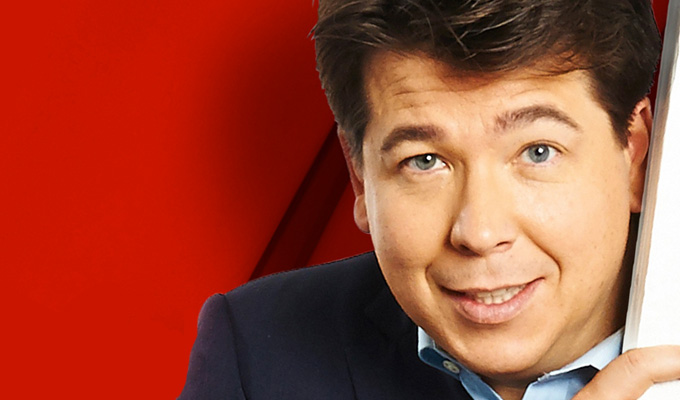 Michael McIntyre: Happy & Glorious
Note: This review is from 2015
The most common criticism of Michael McIntyre's brand of observational comedy is that since it's pointing out the obvious, anyone can do it. As a pre-show video featuring members of the public attempting his routines proves, they most certainly can't… not even with his material.
The film also serves to highlight just how much McIntyre has come to own aspects of ordinary life: the man drawer, of course, but also such everyday things as the spice cupboard, tasting wine in restaurants, or getting to 'glide' while cutting wrapping paper will forever be associated with him in the minds of his fans.
Happy And Glorious contains a couple of routines that might attain that status, but although he's as crowd-pleasing as ever, this tour, now reaching the O2 Arena that McIntyre calls 'home', only sometimes feels like vintage McIntyre.
His routine about sharing a bed with a partner is probably the strongest in his 'what's the deal with?' arsenal, as he accurately describes the ritual jostling for position and his wife's nocturnal peculiarities. Many will also identify with his descriptions of struggling to position a hotel poolside parasol, although it seems more than a little contrived in its exaggeration within a routine about foreign holidays that makes much of the ubiquitous swimming pool phrase: 'It's all right once you're in.'
McIntyre is, of course, the archetypal well-heeled middle-class parent, the Ocado customer who uses Calpol and iPads to sedate his two young sons. Like many of that demographic, he's now moved to the country, where he lives in terror of the peculiar animal noises that emerge from the pitch blackness.
His concerns are not the state of the world or the state of the nation, but the state of service station toilets and waiters who don't carry notepads. The universal is mixed with the personal; most notably as he shows off his special orthotics shoes, designed to correct the toe-first deportment that gives him a wobbly walk and ballooning calf muscles. He rolls up his trouser leg to show us, channeling Donald McGill's seaside postcards.
Such corrective treatment meant he literally went to a clinic of silly walks, which allows him to canter up and down the stage with various amusing gaits as he recreates his fellow patients. It's one of a couple of routines that seem deliberately engineered to allow him to do his trademark pacing
For every segment that strikes a chord, though, there's another where he feels like he's going through the motions: those descriptions of holidays, toilets and restaurants are relateably accurate, but none-too-special. Though he proves, should it be needed, that he can write a joke: There's a lovely one about Johannesburg's reputation for violent crime, inspired by his visit there, that any comic would be proud of… even those who would sneer at the mainstream comic in their routines.
But such wide appeal isn't easy to capture, and Happy And Glorious will sate those many fans; its title reflecting the feelgood nature of his good-natured grumbles as well as the inherent Britishness of his small-scale concerns. A line from the national anthem worthy of a national treasure, whether the naysayers like it or not.
Review date: 2 Oct 2015
Reviewed by: Steve Bennett
Reviewed at: O2 Arena
Recent Reviews
What do you think?