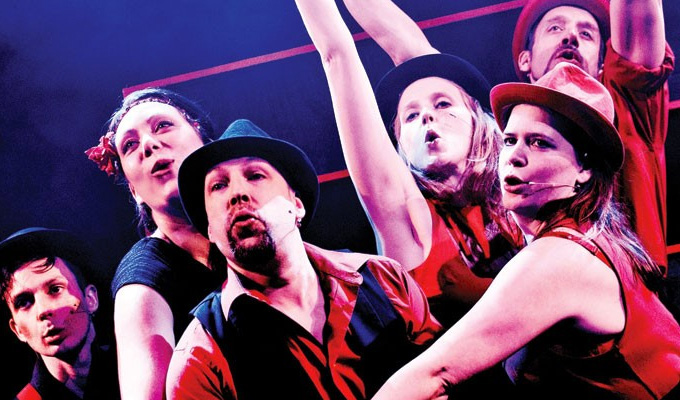 Showstopper! The Improvised Musical
Note: This review is from 2015
Indeed, they have taken the unprecedented step of asking critics to come more than once, just to prove that the talented team are making up a new show each time. For so slick are the results that a cynic might think that they must be recycling songs or plots or characters – but, astonishingly, they're not. Prepare to be wowed.
It is a technically brilliant enterprise. Not once do they seem grasping for words, ideas or even rhymes, a mastery of the form which actually denies them one of the usual tricks of improv, to get laughs from the struggle. But at two hours, including interval, this is a show that must work on its own terms: it cannot rely on cheap tricks, or even on just being impressive (which it undoubtedly is); it needs to engage and entertain as consistently as any other offering in WC1. With a bigger stage comes bigger stakes, yet the team, who have previously performed more than 600 spontaneous musicals on the Fringe circuit, deliver.
Tonight's offering, based on ideas harvested from the audience, is Swill!, a romance set in a pig farm. Co-creator Dylan Emery also acts as an on-stage director, steering the gags away from the easy ones about a certain Oxford drinking club to something more substantial. Other musicals already staged this run have been set in a Volkswagen car plant, That's All Volks!, and at Marks And Spencer, Making Sparks.
He also seeks some musical styles from the audience. In the preview performance I saw, the improvisers are told to channel Oklahoma, Eric Clapton, Phantom Of The Opera, Steven Sondheim's Company and Newsies – by no means all obvious choices – while Emery will occasionally stop the action to solicit new suggestions – or just to mess with the improvisers, insisting at one point, for example, that an entire scene be played out in a nonsense Dorset accent the actors had intended as a quick gag.
Pippa Evans is the powerhouse of this offering, playing Dolores, the owner of a family pig farm who's so devoted to the business she's never had time for relationships, despite being adored from a distance by farmhand Jethro, who is just about to turn his back on the rural life to go to university. She excels in adapting to any singing style demanded and drives the action forward with smart, funny decisions – and the valuable aid of Oliver Senton, as her paramour.
It is very much an ensemble piece, though, and in every scene, the six-strong cast are busy adopting a range of background or foreground characters, from swine carcasses to Hooray Henry students. Tonight the team, drawn from a larger pool, also comprises Ruth Bratt (probably contributing some of the funniest standalone lines), Justin Brett, Adam Meggido, Philip Pellew and Andrew Pugsley. And it's not just they who are on-point, the skilful band and the technical crew make the whole show seem as if it had been planned all along.
It is this scale of production that gives the comedy an extra kick; an offhand comment can suddenly become a recurring refrain to a big production number as the whole team pick up an idea and run with it. That way gags are never knowingly undersold. There's also the challenging juxtapositions – an agricultural auction conducted in the style of Gilbert and Sullivan proving one of the highlights tonight – and every style of which the cast are more than equal to.
Songs are far more enduring than the apparently ephemeral nature of the improvised show might suggest. Tonight's hits include a jaunty number about the Alpha Kappa Gamma frat house, which requires some impressive improvised choreography too, or Do You Like A Pig, not a question but a sexual come-on, a sultry seduction with a barbershop backing.
The first London show of its kind, Showstopper! has instantly made its mark for its quick wit, toe-tapping tunes and improvisational genius. The narrative, the songs and the jokes all work perfectly, and in slick concert, to produce a musical worthy of sitting alongside the other big hits in town.
An improvised show on the West End stage? You couldn't make it up –but they certainly can.
• Showstopper! The Improvised Musical is booking at the Apollo Theatre, Shaftesbury Avenue, until November 29. Tickets.
Review date: 30 Sep 2015
Reviewed by: Steve Bennett
Showstopper! might be the only West End show you ever need. With the promise of an entirely different musical every night, the fully improvised production could do a roaring trade in repeat business and still keep surprising a returning audience.
Recent Reviews
What do you think?