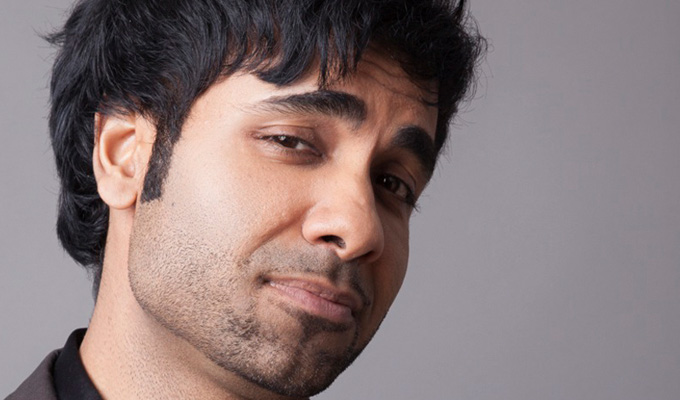 Paul Chowdhry: PC's World
Note: This review is from 2015
He's recording his second DVD in his third sold-out night at the Hammersmith Apollo, so Paul Chowdhry must be doing something right. But whether that thing is originality and wit is open to debate.
For his shtick tends to mainly revolve around putting on a comedy accent. Saying 'bastard' in a brutal Indian brogue, or 'Dave' in exaggerated Cockney patois proves very effective – and the more often he does it, the better, as far as his fans are concerned.
More repetition comes in the relentless putdowns to his front rows, for which the term 'Bengali' appears the harshest. Why take the mickey out of a bloke's shirt once, when you can do it 20 times? Even if the other 3,200 people in the room will have to wait for the DVD release to see what this sartorial monstrosity actually is. Why insinuate someone is gay (since being homosexual is such an hilarious concept) just the once when there are so many euphemisms to deploy?
It's all hilarious to his audience; which is about 80 per cent browner than most crowds the Apollo draws. That, surely, is the key to his success, tapping into a big market not catered for by the comedy mainstream. And in return they love that he uses the same slang as them, has the same reference points, knows all the factions.
'There's more internal racism in this room than the BNP could ever inflict,' he says of an audience that would elsewhere all be grouped together as generic 'Asian'. That he knows this is the key to his appeal, in the same way Canadian comedy superstar Russell Peters never lets even the smallest ethnic enclave in his audience go without a namecheck.
Admittedly as a white bloke, some of the subtleties of Chowdhry's reference points passed me by, although he gives some wry observations, such as his portrayals of stifling Indian hospitality or the peculiar tics of various uncles, a more universal appeal, and are all the better for it.
In a similar vein there are some decent ideas about skewed Western sensibilities, whether its in media representations or global policy: isn't it funny how ebola seemed to be cured once a white guy got it? And yes, he does tap into the difference between English and Indian culture;, which might be seen as predictable, but actually proves one of his stronger suits. The different attitudes fathers from each background have when their teenage son wants a sleepover with their girlfriends is especially nicely done. And his jokes about the Indian mission to Mars might be built on stereotypes, but he has fun with them.
As well as recognition, the audience seem most up for a verbal fight, and revel in Chowdhry's brutality. He was billed as 'the baddest man in comedy,' in the introduction from X Factor's voiceover man Peter Dickson, after all. 'I am going to DESTROY you' he tells one heckler. The room erupts. He then suggests he shagged the guy's mum, and the room loses its collective shit.
The insults are pretty low-level: If you get a cheer just for saying: 'Look at the state of you bastards,' why try to be more creative? In what had been intended as a Q&A at the end, the room turns into a rabble, shouting over each other, hoping to prompt more such putdowns.
The audience differs from the liberal norm in other ways, too. When he asks who's for gay marriage and who's against it, the scores are roughly equal. In this case, Chowdhry takes the leftie side – well, sort of: he'll still crack some jokes a homophobe might enjoy. 'Gays are just normal-looking guys aren't they?' he asks, peculiarly, before mimicking a super-camp man who spouts saucy double entendres.
Chowdhry says that the left-wing press vilify him for his accents, a range of which are trotted out here, from the phlegmy Arabic to the arhythmic African. But it's the paucity of the content behind them that lets him down, not the mere fact of putting on a daft voice. It's sometimes very gratuitous indeed. For example, he says that if his usual techniques of chatting up a woman don't work, he'll 'try a Jamaican patois'. Just so he can do it here. Not especially offensive (though his jokes about the Roma being thieves are designed to cause a bristle), more lazy.
Even away from the ethnic material, a lot of Chowdhry's content seems old hat. He gets a laugh from repeating the toilet attendants' sales pitch of 'no Armani, no punani' or from regurgitating the idea that Britain's storms are weedy, resulting in nothing more than a blown-over bin – the internet meme you'll have seen after every bad weather warning. In fact the web is a rich source of material, such as simply repeating the prank whereby a TV news channel was duped into reading racist names as the victims of an Air Asiana plane crash.
Even when it's not directly 'found' comedy, much of his topics feel tired. He mocks the 'have you had an accident at work?' ads, Embarrassing Bodies, and Michael Jackson. He tells us 'Kim Kardashian's famous for having a massive arse – Kanye West'; explains that the Indian-Pakistan partition happened over Kashmir and notes, predictably, 'All that fuss over a jumper.'; and asks what's the deal with LMAO… does anyone really laugh their ass off? And for a finale, a Rolf Harris impression, to pass as edgy.
The brutally terse attitude has plenty of appeal, but the jokes are too easy, PC.
Review date: 28 Sep 2015
Reviewed by: Steve Bennett
Reviewed at: Eventim Apollo
Recent Reviews
What do you think?