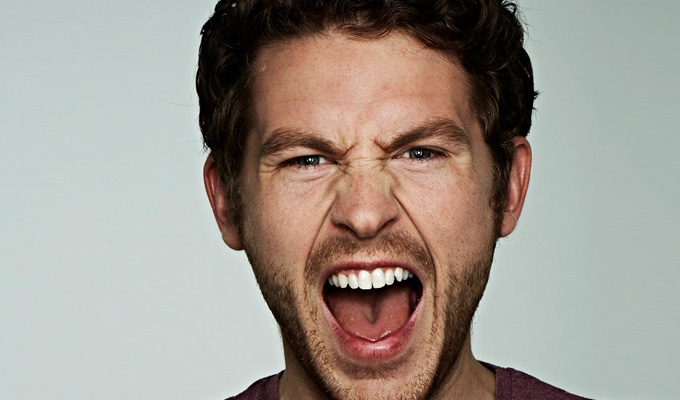 Comedy Knights Comedian Of The Year
Note: This review is from 2015
It's a competition final, but, initially at least, there's not much sense of occasion to this Comedy Knights gig. The oddly-lit Hackney Attic feels a bit like a conference centre room but, most crucially, the mood is hampered by the ineffectual compering of Luke Graves, standing in for an absent Joel Dommett, who is unable to command the audience nor make any of his interactions go beyond aimless small-talk.
Eventually the room warms up, thanks to the quality of the acts themselves, but even last year's winner Dave Green – who unusually opens the night rather than covering the judges' deliberations at the end – doesn't get the reactions his nifty writing deserves.
It is not the cold start that does for the brash Nabil Abdul Rashid, however, but his lack of material. He sets himself up as an outsider, not just as a black Muslim, but against a comedy establishment that wants him to be more mainstream. He envisages a BBC Tristram pretentiously advising that he should change his name to something less Islamic. But it's a straw-man argument; he does nothing in the set to prove himself funny enough for greater things, even though he does laugh at his own unexceptional comments freely enough.
Mild-mannered Nottingham girl Sarah Keyworth brings a change of tone, and she has some quietly quirky lines about feeling overwhelmed by London and not looking sufficiently gay for some prejudices. But she's undercooked as a comic, lacking the experience to connect with the audience or land any serious blows with her promising trains of thought. She probably needs to be a bit more battle-hardened without losing that very agreeable demeanour.
Things pick up after the first interval with the peculiar Irish whimsy of Daniel Duffy, who could be Father Dougal's less worldly-wise younger brother. Obsessed with stealing a glance at the prettiest girl in Mass, while hanging out with his strange and dim-witted friends, Duffy is actually the alter-ego of Michael Stranney, although it's never announced that he's a character. Duffy is a rounded creation, sympathetically low-status, from which all the distinctively offbeat lines naturally blossom. Last year he won the NATY new act award and was one of the leaders of tonight's field, too, if not quite able to place in the top two.
A much quicker pace with Robyn Perkins, fulfilling quite a lot of stereotypes about brazen, confident, over-sharing Americans – despite having lived in Britain for almost seven years. She offers a jolt of energy, but the material is simplistic, about what a dump a certain area is (it doesn't matter which) or mulling offensive cocktail names. It feels as if she daren't slow down lest anyone notices how superficial the content.
An even more powerful blast of energy comes from Phil Lucas who takes to the stage in a cacophony of sound and projected visuals. Think of the ironic hype of David Trent, to which he is stylistically similar, although the content is more surreal; a fast-paced mashup of nonsense, some verbal and some coming via images that have been crudely Photoshopped (or most likely Microsoft Painted). He bombards the audience with oddnesses such as 'scampi mittens' or 'terrified taps'. The approach proved a huge hit with the audience, and it seems suited to the era of the shallow but quick fix of internet memes, but despite some amusingly silly ideas, the noise of his set can overwhelm the signal.
Deadpan Latvian Gatis Kandis played up the stilted foreigner shtick, but left the room confused with his non-jokes – just as he did on Britain's Got Talent three years ago. With no sense he might be in on the gag, his awkward – and slightly creepy – anti-comedy fell utterly flat.
Jules Oliver offers some original ideas and witty lines from an unpretentious, but slightly odd, vantage point, mixing observational comedy with the absurd. It's an uneven act, though, including starting with one of her less assured routines about not liking children, so although she's been gigging since 2012, it feels as if she needs to put more hours in to polish this potential. That might also help a delivery that feels little distant and rehearsed, even though she is innately likeable with some smart ideas.
Jake Lambert has already signed up with the powerful Off The Kerb agency, and he's in some danger of coming across as a twenty-something male comedian in a familiar mould, with tales of flat-sharing pranks and ultra-relatable observations. Still, the story that's the centrepiece of his act IS a great prank, with a nice payoff, and there's some nifty wordplay bookending it. The affable Lambert's probably still finding his feet – a year ago he was a human Twitter feed of one-liners – but hopefully he'll have space to develop his style before being swallowed into the comedy machine.
Joel Dommett might not have been here to compere, as advertised, but he was there in spirit thanks to Lucas Jolson, who has near-identical speech patterns of upbeat banter and strained incredulity. But there's very little substance behind it, lest you count some very strained contrivances that he over-sells. He makes a lot of noise, but the audience are largely silent.
Next Benji Waterstones, performing in his second new act final of the week, following the Magners competition at the Greenwich Comedy Festival on Sunday, again impressed with his distinctive worldview of a naive Northerner Adrift in London, while pondering the minutiae of life, and even history. Another aspect of his life – training in psychiatry – offers entertaining and offbeat anecdotes too. He seems like a comic who's found his voice quickly, and has plenty of ideas he can exploit both now and in the future. It earned him the runner-up spot tonight, and on another day he could easily have triumphed.
In the event, that accolade went to George Lewis, for the sheer inventive strength of his writing. He's clearly a linguaphile, while his day job as an advertising copywriter has sharpened his focus in fashioning efficiently pithy phrases that stick in the mind. But there's also a context that makes his routines more than a parade of one-liners, as he paints himself as a loveable loser, especially in love. An expert craftsman, Lewis deservedly adds this title to the 2015 Amused Moose Laugh Off, which he won at the Edinburgh Fringe last month.
Finally Sean Cannon, a solid newcomer who probably suffered in comparison to two strong acts on the bounce. He, too, plays up the fact he's no stud, with some smart lines, even if he does overdo the build-ups, and a likeable presence. However, he's not fully formed into his own comedian yet – there's certainly a touch of Tim Key in his cadences – which is why he lags others on the bill. But it might just be a matter of time.
Review date: 25 Sep 2015
Reviewed by: Steve Bennett
Reviewed at: Hackney Picturehouse
Recent Reviews
What do you think?