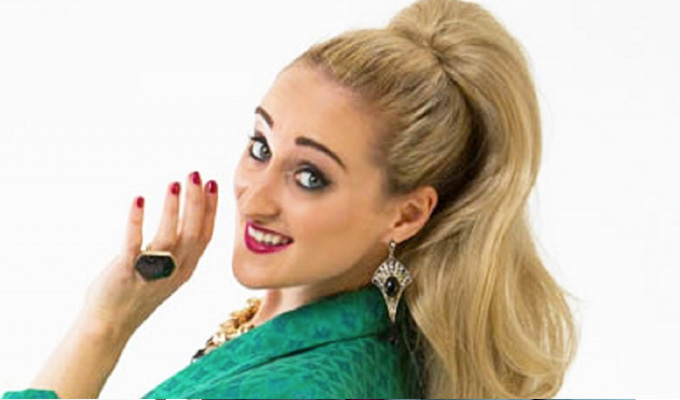 Have A Word
Note: This review is from 2015
Abbie Murphy is in the slightly odd position of having created a credible and memorable character, nominated for the Amused Moose award no less, but after two Edinburgh shows, still casting round for a reason for her to exist.
But then that's the essence of Stephanie Vange, a brassy, blonde 25-year-old from Essex, seemingly supreme in her confidence but the epitome of flighty, convinced the world owes her a living.
Lost in Edinburgh, leaving messages for the hen party she's got detached from, she happily starts nattering away to the audience, sharing the fashion compliments she's received and the trivia of her day like it's a show they've come to see.
There's a fine line between legitimate performer and egotist divulging the content of their dreams that Vange wonderfully makes even thinner. Spiritual before she got fashionable she maintains, it's a given that she's the most important person in the room, so naturally, she commands it.
Skilfully rationing her deployments of 'innits' and 'like literallys', there's an unforced naturalism to this Essex girl and Murphy improvises with seamless ease around the crowd interaction, her strongest suit.
Although blessed with some game participants on the day I saw it, giving back as much as she demanded, their willingness derived in part from Vange's believability and the desire to see where she takes the exchange. Though you probably wouldn't describe her as subtle, she is fully rounded and switches from voluble friendliness to pouting petulance with an accomplished blaze of emotional authenticity.
Similarly, in her one-sided phone conversations with her father and unwitting testimony about the way in which she's inveigled herself into the wedding party, she evokes sympathy while allowing her pride and self-assurance to just about remain intact, the cracks only starting to show in the tightness of her smile or the accelerated speed at which she sips her drink.
Because crucially, Murphy isn't overly mocking the stereotype. She's exploring the vacuity and probing the commitment as Vange desperately tries to find something, anything, to fulfil her. When she recreates a failed club dancing audition, it's the fact that she's too determined and trying too hard, rather than any clumsiness of the movements, that doubtless rendered her unemployable.
Although the show ends abruptly on about 45 minutes, with a sense of the character still very much adrift, Vange's potential is percolating away nicely and you feel that Murphy just needs to find a stronger hook or context for her to really draw the crowds in.
Review date: 30 Aug 2015
Reviewed by: Jay Richardson
Reviewed at: Laughing Horse @ The Counting House
Recent Reviews
What do you think?