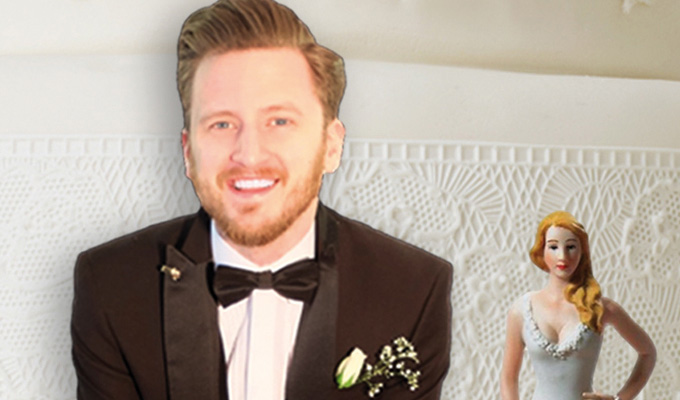 Alex Smith: The Art Of Grooming
Note: This review is from 2015
With his slicked-high hair and natty, tartan three piece suit, Alex Smith cuts an incongruously dapper figure in his grimy rock bar venue.
Although he declares himself a camp Englishman, he's also something of a shortbread tin Scot. His family hails from Stirling and he's trying to ingratiate himself with the locals.
He has a bold approach to this, telling those assembled that he doesn't feel the Scottish reputation for rudeness in England is justified, pandering to and insulting them in the same breath.
But that's the superior, self-aware persona of this preening comic, who takes regular European mini-breaks if only to keep up appearances. Acknowledging his voice as grating, and his father's surprise that he's straight, he's nevertheless diluted his egocentricity by getting married.
Though he realised the depth of his feeling for his beloved with a gallant act of chivalry when she was in drunken distress, which he tempers somewhat by sharing, he truly revelled in the wedding planning, arranging almost everything, from the music to the flowers. With a guitar and strong singing voice, he demonstrates how the popular likes of Aerosmith and Train are inappropriate for such an occasion, even if his own ditties are graphically and laddishly crude odes about employing foodstuff for lubrication.
There's an amusingly cruel account of choosing the right bouquet for the bridesmaids. And the proposal is jaw-dropping in its lavish, Disney princess opulence. It's a stark example of his capacity for showing off, that he nevertheless effectively undermines with his fiancée's reaction and the fact than another couple subsequently beat them in the one-upmanship stakes.
Incrementally painting a fond but mocking portrait of his now wife, Smith eschews a straightforward timeline in relating their nuptials, dipping in and out with tangential anecdotes and so-so observations on relationships generally.
Belatedly, the wedding planning takes a more linear form as his father's health deteriorates, which he scrambles to cover lightly but appropriately.
But he ends winningly, by revealing that he's not completely self-obsessed, to an almost ridiculously sacrificial degree. Though inconvenient for the personality he projects, it allows him to exquisitely share a contrasting tale of love that didn't end happily so much as horrifically hilariously.
Review date: 29 Aug 2015
Reviewed by: Jay Richardson
Reviewed at: Whistlebinkies
Recent Reviews
What do you think?