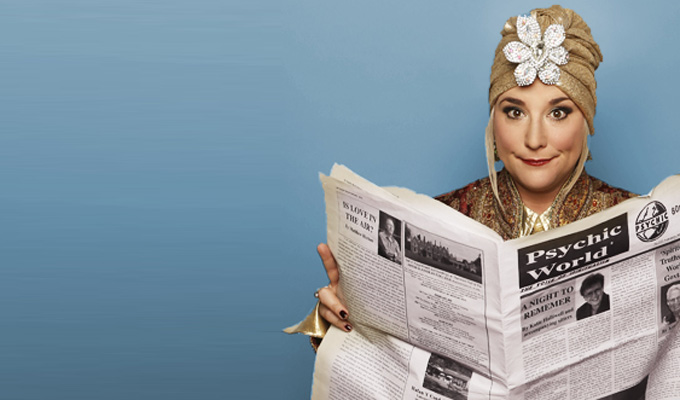 Lou Conran: Small Medium At Large
Note: This review is from 2015
By this fatigued state of the Fringe, there must be a lot of comedians convinced they are communicating with dead people every night. But Lou Conran genuinely believes she has a gift.
She discovered six dead bodies in six months – which may be coincidence – but then she saw a spirit in her own bed, now shares her house with a poltergeist and saw a glowing orb on a friend's shoulder that proved to be a forebear of some genuinely unpleasant activity. She's even been to a supernatural school – a Hogwart's for adults, she calls it – where she developed her talents.
Now, though, she's set up a Gypsy Rose Lee-style caravan in the Assembly Gardens, into which maybe a dozen of us, sceptics all, gather to hear her ghostly tales.
'This is going to sound crackers,' Conran says by way of introducing almost all of the yarns. And yes they do. But even if you don't believe in the afterlife and the spirit world, she does, so they become strange anecdotes just like any other comedian's… only involving a ghost who plays her ukulele rather than, I don't know, some rowdy yoof on the bus. It's a surprisingly matter-of-fact approach to some potentially spooky material.
Letting the oddness speak for itself makes this an engaging, chatty 45 minutes or so… Nothing too intimidating to fear from a site-specific piece in a confined space. She gets the tarot cards out, but not for any reason other than to show us and have a bit of banter.
The relaxed approach, however, means that there's not much of a show here. She tells us her weird ghost stories, interspersed with amusing tales from her unsuccessful love life – including the odd chap she met at clairvoyant school – which are alternately engrossing or played for laughs.
But they don't build up to anything; there's no greater purpose or clever insight beyond this succession of standalone stories. It's enjoyable, but as ephemeral as the ghosts she convenes with.
Review date: 28 Aug 2015
Reviewed by: Steve Bennett
Reviewed at: Assembly George Square
Recent Reviews
What do you think?