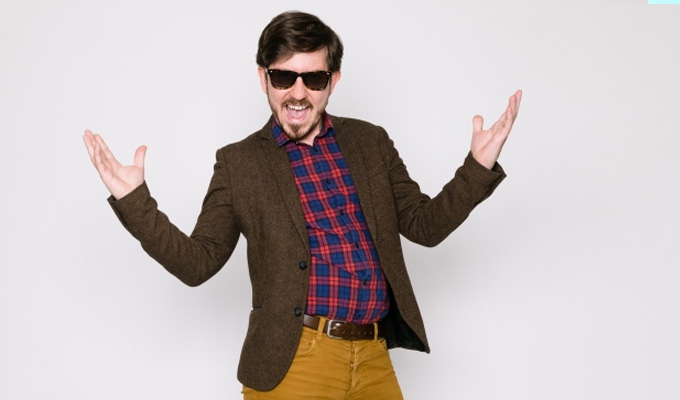 Matthew Crosby: Smaller Than Life
Note: This review is from 2015
What would a Vladimir Putin Fringe show be like? Inspired by a holiday to Russia, Matthew Crosby, Pappy's de facto leader and foremost small man syndrome sufferer, can only imagine and aspire.
He still finds plenty to ape in Putin's style - manipulating sporting contests, fining unapproved freedom of expression and generally showing more torso than anyone wants.
These vainglorious appropriations, incorporated with all the Knockabout charm of his sketch trio, elevate an already enjoyable hour of travelogue stand-up. Crosby jokes about being a triple threat. But he actually is, moving effortlessly between personal anecdote and physical daftness while also working the crowd like a seasoned compère.
A former English teacher flummoxed by his borderline racist pupils, with a look seized upon by hipsters and marital status built on just trying to fit in, he can't claim Putin's cult of personality. Still, he does have his own little quirks, including weirdly errant facial hair, mental processes corrupted by smartphone and sleeping attire that's both unique and disturbing.
Fully engaging with Russian patriotism, misery and their wonderfully kitsch merchandise, he's a classic fish out of water, embarrassing his wife and reflecting on himself as he encounters a different way of life. Most amusingly, he struggles to understand the Russian circus, both staggeringly crap and yet utterly fabulous, a confusing pastime in a nation suspicious of homosexuality.
Later routines, about his vocation as a pseudo-Jew and efforts to rebel against his unshockable parents, feed into an uncharacteristically dark reflection on the recruiting power of ISIS and the use of children as bargaining chips.
Consistently funny and replete with amateurish ventriloquism, the connection of these to the Russian trip feels somewhat tenuous, making the return there for the show's finale feel like an excessively structured, calculated Fringe gesture, a shame when everything before it seemed so well paced and unforced.
Nonetheless, as you're invited to participate in one of Russia's most violent and victimising circus traditions, you'll appreciate that there are still some things they can teach the West about clowning.
Review date: 18 Aug 2015
Reviewed by: Jay Richardson
Reviewed at: Just the Tonic at The Mash House
Recent Reviews
What do you think?