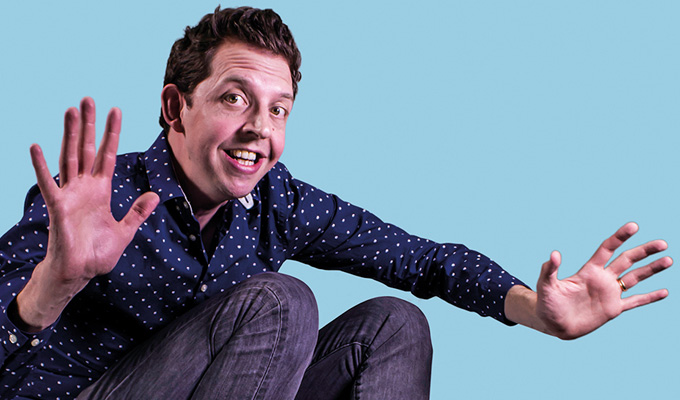 Jonny Awsum: Everything Is Awsum
Note: This review is from 2015
Jonny Awsum positively smashed this musical comedy show, taking the audience all the way with him. He is blessed with gangly comic looks, and an old-fashioned face that radiated bonhomie. In another era, Awsum would be crowned king of light entertainment, such is his ability to bring an audience onside in no longer than it takes to flash a toothy smile and strum a chord.
Musical comedians encounter a lot of snobbery from other stand-ups for having instruments instead of jokes, but he's not setting out to be Martin Amis with a ukulele. The songs are childishly simple, which means everybody gets them and and can sing along. And I mean everybody, as there's almost no innuendo in the show. Even a departure into dogging material was so delicately done that anyone from infancy to dotage would enjoy it.
It is unchallenging, easy, Radio Two-friendly comedy, and it's just a pleasure not to be challenged, upset, humiliated or shocked in the name of humour. There is room for everyone, you don't need to have a fountain of elegant eloquence. Jonny Awsum is simple, exuberant and crowd-pleasing, and that's not a bad thing. The jokes as such probably wouldn't stand up to analysis if you took away the guitar and singing, but that's OK, this isn't meant to be funny on the page or resonate with you for weeks, it's an instant pleasure.
He is much smarter than his perky, CBeebies demeanour might imply, as he more or less sang his CV (what a great calling card), showed us a bunch of brand name ads he's appeared in and then got virtually everyone to take a selfie with him, tagging him on Facebook, to reach squillions more people.
It's a dead simple, but absolutely cracking show. That's entertainment.
Review date: 15 Aug 2015
Reviewed by: Julia Chamberlain
Reviewed at: Gilded Balloon Teviot
Recent Reviews
What do you think?