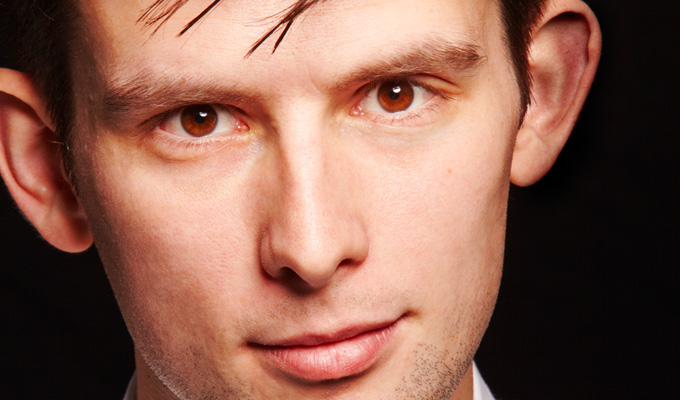 Kieran Hodgson: Lance
Note: This review is from 2015
To compare Kieran Hodgson's show to a bike race (or any race for that matter), I'd say: slow start, picked up in the middle, nailed the finish. In Lance, Hodgson tells the twin stories of his own coming of age, and the career of drug hoover and fallen cyclist Lance Armstrong. Hodgson's own obsession with Armstrong provides the thread between the two.
And quite frankly, it's bloody impressive. Hodgson is seriously spinning plates in this show. It's not just his and Armstrong's personal stories he's telling, he builds a tableau of other characters and tells their stories too, doing justice to them all without overloading the show or making it confusing. His acting is so crisp, there's no overlap or muddy waters.
Some of the show is straight storytelling, but Hodgson also sneaks in some little self-contained set pieces, some of which are the most memorable parts of the show. There's also a song – a FUNNY SONG (there will be about three of these across the entire Fringe, Hodgson has one of them) – and some hilarious cameos by Bradley Wiggins and Alan Bennett. Bang in some meta gags about Hodgson's own career and how the show's been constructed, and you have yourself a show that's as intricate yet steely as a spider's web.
I don't know if it's possible for a solo character comic to do any more than this in the space of an 60 minutes. Someone should intervene.
The sacrifice for all this is that, my god, does it take some setting up. That's why I think the show takes a little while to go through the gears while Hodgson establishes the characters. But our patience is rewarded, as once he's up to speed, he doesn't look back.
There are many highlights you could point towards, for example his portrayal of Armstrong, who appears sporadically to dispense trite wisdom to young Kieran and his bike-mad friends. Hodgson alphas himself up into a sort of all-American gunslinger for the part and steps into the shadows, backed by a gruff, Bryan Adams-esque backing track. The rendition of Armstrong's TV interview with Oprah is another, and I loved Hodgson's roll call of the new people he meets during fresher's week and his judgments of them, boiling them down to their literal nicknames and their chief characteristics like Top Trumps.
The finale is a bit of a leap, but it's a leap that Hodgson has earned, and I think by this point there's no one who isn't rooting for him. A triumph of a show, then, with plenty of genuinely laugh-out-loud moments (the Achilles heel of so many character comics).
It's looking increasingly likely that Hodgson's talents will be hogged by the world of TV, which would be thoroughly deserved. But for now, he has a beauty of a live show in Lance, so if you're coming to the Fringe, put it on your list immediately.
Review date: 14 Aug 2015
Reviewed by: Paul Fleckney
Reviewed at: PBH's Free Fringe @ Voodoo Rooms
Recent Reviews
What do you think?