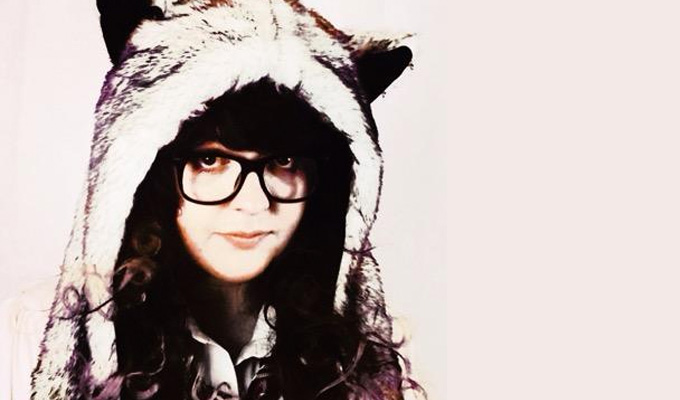 A Very Tall Storrie
A genuinely shocked Ashley Storrie had to start her show a full 15 minutes earlier than she intended, since she was so in demand that all the seats were already filled before she had time to prepare. The buzz was as hot as the tiny room she occupied. A good thing, then, that she rewarded the audience's enthusiasm.
Storrie is not a diva by any stretch. The majority of her stand-up is about her lack of success with jobs, men, and not telling jokes about Jimmy Savile. Her attitude is to be as antagonising as she can be, yet there is a certain vulnerability to her that makes her instantly likeable. Perhaps it's something to do with the fact that she looks like she's just hit puberty and is suffering for it, or the girly giggle that erupts when she laughs at some of the stupid things she's done in the past. Sometimes the non-such distant past, such as only voting SNP because she likes her high-profile MPs to have the names of fish, causing her much ridicule.
Storrie delivers her jokes in a brash, no-nonsense manner, sometimes referring to her handwritten diaries from the age of 16, reading excerpts about Star Trek, her parents fighting while on holiday, or her dreams about being a mermaid. Occasionally she breaks from being glum about her geekiness when she realises she isn't alone – a joke about roleplay got her literally jumping for joy when one audience member understood what she was talking about.
What started off with great gusto did, however, slow down towards the end – maybe because of the heat or the surprise of the early start, it was hard to tell. Storrie started to repeat similar themes about her family (mum is fellow comic Janey Godley), oddly-shaped poo, and her inability to give a decent blowjob. It was like a clock winding down and the key needing a twist. She confesses that her attention span isn't great – something she blames on her autistic father – but also because she delights in going off on rants about subjects related to her jokes.
Yet the audience maintained their level of enthusiasm for Storrie, even when she started to wane, because she is so naturally funny and down-to-earth. You imagine she is exactly the same offstage, and someone you'd happily have a drink with. Just don't mention the SNP.
Review date: 11 Aug 2015
Reviewed by: Helen Ackrill
Reviewed at: Laughing Horse @ The Counting House
What do you think?