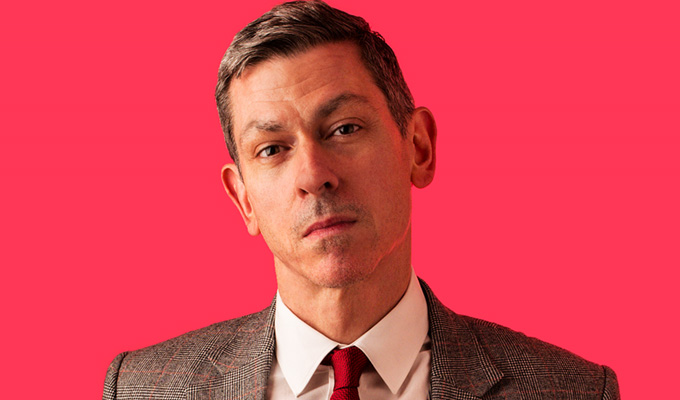 David Mills: Don't Get Any Ideas
Note: This review is from 2015
David Mills is a superior act… and by that I refer to his social status; aloof and savagely cutting about all those beneath him. Which, in his mind, is everybody.
His stage demeanour is superficially more humorist than stand-up; delivering his pithy bon mots perched atop a barstool, dressed in natty black suit and tie. He captures a subversive yet rarefied atmosphere, as if he's slipped down a wormhole from a suave, smokey jazz club of the 1960s counterculture.
Yet although that puts some emotional distance between himself and the audience, he's playful with them – like a cat playing with a bird it's about to disembowel. He'll sneer at the plebs then, with an insincere, ingratiating grin, ooze: 'Friends again?' And if he feels one of the underling punters are drifting away, he issues a terse click of the fingers and snaps: 'Focus.'
His acidic quips – on everything from jihadi brides to Cards Galore – generally justify his supreme self-belief. And he certainly disproves the allegation that Americans don't do irony… he's super-sized it as he turns his coldness to good advantage. He is an archduke of comedy with the emphasis on 'arch'.
One theme is that he's trying to help us achieve mindfulness in a world that's on the brink – although he's clearly not impressed by the concept. Happiness is overrated.
This is a loose idea for a show that weaves casually from politics to surrealism, one moment delivering a viciously cruel jibe about Ed Miliband, the next indulging in wordplay on actresses' names. But the constant is Mills's knowingly aloof, patrician bearing and cutting one-liners – his takedown of Eddie Redmayne's acting is especially priceless – which makes an hour in his company an indulgent delight.
Review date: 10 Aug 2015
Reviewed by: Steve Bennett
Reviewed at: PBH's Free Fringe @ Voodoo Rooms
Recent Reviews
What do you think?